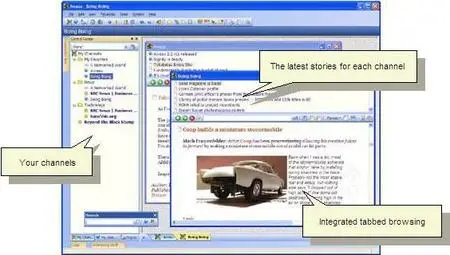 Awasu Professional Edition v2.2d | 5.03 MB
Innovative RSS
If you're looking for something to read your favorite blogs and news channels with, Awasu is far and away one of your best choices. It comes with:
a modern and fully customizable user interface.
individually configurable channels.
different ways to let you know when new stuff arrives.
quick access to your favorite channels.
feed archiving and an advanced search engine.
You can also do more advanced things like:
download your favorite podcasts.
integrate with blogging tools.
automatically keep your blogroll up-to-date.
take information from within Awasu and republish it.
keep different PC's in sync with each other.
Awasu is available in several different versions. Below is a brief list of the features offered. For a complete description, please take a look at the online help.
General features
Monitors any site that provides an RSS or Atom feed.
There are currently thousands of channels available on the Internet, including all the major news sites and weblogs, and the number is growing daily.
Lets you know when new content is found.
You can customize each channel to show a notification balloon, play a sound or animate the system tray icon. Or all three!
Keeps track of what you have already read so you don't waste time looking at the same thing more than once.
Archives all feed content and provides an advanced search engine to help you find what you're looking for.
Search agents can be set up that will flag items of interest. Or search channels that will monitor the results of a search query as a feed in its own right!
Lets you keep multiple copies of Awasu running on different machines in sync with each other.
Advanced channel management features let you keep your channels organized, only showing the ones you want.
Workpads let you save away feed items for later.
Each channel can be individually customized.
Automatically detects new feeds as you browse (auto-discovery).
Automatically downloads podcasts (enclosures) and other related files.
Can use either Internet Explorer or Mozilla as its embedded browser.
Integrates with Syndic8, the premier directory for feeds.
Provides quick access to tools such as Google, Feedster and News Is Free.
Lets you quickly identify and delete stale channels, ensuring that you're only reading current and relevant channels.
Integrates with your blog to let you quickly and conveniently post about things you have read in Awasu.
Fully customizable and skinnable user interface.
Includes advanced features such as docking and auto-hide windows, personalized menus and full-screen mode. You also have full control over the presentation of feed content.
Optimized keyboard interface for the fastest possible browsing. Or if you prefer the mouse, a one-click mode is provided to speed navigation.
Channels can be added to the system tray menu, Tasks Pane or Sidebar for quick access.
Uses wizards to help you get started with some of the more powerful features of Awasu.
Supports secure feeds using HTTP authentication and/or SSL.
Supports the use of advanced HTTP features to ensure the most efficient use of bandwidth.
Comprehensive online help and documentation.
Advanced features
Allows information to be retrieved from any source using plugins.
You are no longer restricted to monitoring content provided by third-party feeds. Whether the information you want is on a web page, in a database or provided by a web service, you can write a plugin to retrieve it and transfer it into Awasu.
Application plugins can be installed to extend the functionality of Awasu itself.
Using channel hooks, you can tap into the flow of information as it moves around within Awasu to perform actions such as send out emails or update databases.
Channel folders and filters provide a sophisticated way of managing your channel subscriptions.
Much more powerful than the traditional method of using folders and sub-folders, filters let you precisely control which channels are displayed at any given time.
Reports can be generated to export content out of Awasu.
These are remarkably flexible and can used to perform tasks such as:
* provide a single-page summary of your channel content.
* export your subscription list to any format whatsoever e.g. OPML, OCS, HTML, XML, etc..
* automatically keep your blogroll up-to-date.
* provide a starting point for programs such as Plucker to download content to your PC or PDA for later reading offline.
* create meta-channels.
Allows feeds to be modified using XSLT.
Allows web services, or any other data source that publishes information using XML, to be queried using SOAP.
Home Page:
http://www.awasu.com/
Plugins:
http://www.awasu.com/wiki/index.php?title=Extensions
Download:
http://rapidshare.de/files/36711554/Awasu_Professional_Edition_v2.2.ace
MD5: 2474D87E49F2C8058240D8A43E757089
Thanks to TEAM ViRiLiTY