TorrentCascade 1.0.1.4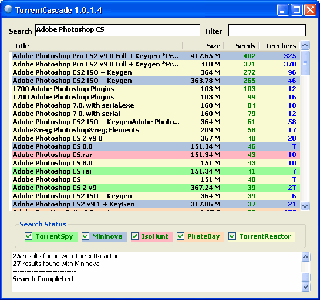 TorrentCascade 1.0.1.4
TorrentCascade is an easy, free and open-source program in Visual Basic.NET 2005. It searches popular torrents indexers and presents the gathered information in user-friendly way.
The main features are
Search on Mininova, Torrenspy, Isohunt and ThePirateBay
Built-in download of the listed torrents
Regular expression filter, so you can display only the very only results you want (i often remarked that indexers tend to give results not expected)
History of searches and filters
Sorting by Name, Size, Seeds or Leechers
Light and transparent AutoUpdate feature
No setup, one exe
Comprehensive log of what happens
You need the Microsoft .NET framework 2.0 to make it work or the program won't launch and crash with a critical error. Note: ATI graphic cards user already have the .net framework installed if they use the Ati Control Panel. Check your Add/remove program list if you are unsure wherever or not the .net framework 2.0 is installed!
THIS IS THE BEST ONE I'VE TESTED
DOWNLOAD:
http://rapidshare.de/files/21584865/TorrentCascade.rar
password: avax
size: .05mb