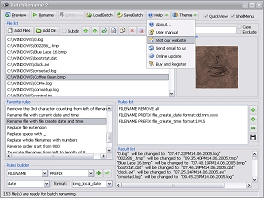 BatchRename Pro 3.10 | 1.1 MB
Rename files freely with all kinds of rules you defined and combine them to make infinite possibilities of rename rules!
Main features:
Highlight rename features:
Rename by the local date time format, or file's data time attribute.
Insert specific length of digits ascending or desending based on defined order.
Support for MP3 Tag ID3 v1 and v2, rename by music's Title, Album, Artist, Genre, BitRate, Frequency, SubTitle, Language, Comment, Copyright, Composer and
etc,…
Rename picture files by their image properties: resolution, color bits, type format.
Uppercase/lowercase the first letter of each word, and Uppercase/Lowercase/Remove any specific character in the filenames.
Format the timecode for a batch of FX picture filenames.
Select destination output directory to store the renamed files.
Truncate filename to a specific length.
Build rename rules yourself, and combine them to make infinite kinds of rename rules.
Download from Ftp2Share.com