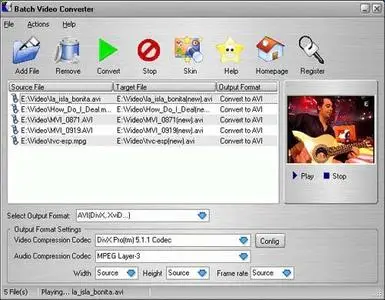 Batch Video Converter 2.6.0 | 4.1MB
Batch Video Converter is a powerful batch Video converter supporting nearly all video format, including AVI, MPEG, RM/RMVB, ASF/WMV, DivX.
With it, you can easily convert AVI to MPEG/VCD/SVCD/DVD/WMV, RM/RMVB to AVI/MPEG/VCD/ SVCD/DVD, ASF/WMV/MPEG/VCD/SVCD/DVD, AVI/MPEG/ASF/WMV to AVI, AVI/MPEG/ASF/WMV to ASF/WMV.
It supports AVI(DivX, XviD, MPEG4…), MPEG1, MPEG2, VCD(.DAT), RM/RMVB, ASF/WMV formats.and all media formats to DivX (MPEG4) and AVI,PAL-to-NTSC conversion and vice versa are also included.
You can change the codec/System type between them including PAL<=> NTSC, Divx <==> cinpeak,as well as support for streaming media (WMV/ASF). Skinable UI with 13 built-In skins.The very user-firenldy and easy-to-use interface lets you easily preview video files and batch convert.
http://rapidshare.de/files/26369638/BVC260.rar.html
Enjoy !