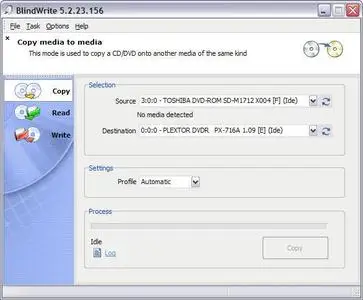 BlindWrite v6.0.0.11 | RAR | 3,2 Mb
Blindwrite, is a software to create a clone of your existing CD and DVD! BlindWrite extracts all the characteristics of your original CD and DVD in his own format or as a.ISO to your harddrive to reproduce a working copy of your media. It allows you to protect your investments against damage caused by children, scratches or by frequent use. Your personal CD or DVD backups can even be run directly from your computer using a virtual drive (i.e. Daemon Tools). Blindwrite's Game Copy Software supports a large number of formats and is regularly updated to support the latest technology. Combined with CopyToDVD, it is a complete set of software for all your backup needs: data files, 1:1 CD/DVD backups, audio CDs from music files and DVD movies. A must-have!
BlindWrite supports all popular CD/DVD writers and handles every available DVD format (DVD-R, DVD+R, DVD-RW, DVD+RW, DVD-RAM, DVD+R Double Layer, DVD-R Dual Layer).
Key Features
* Brand new easy to use interface featuring one-click style
* Supports graphic themes allowing you to customize the look and feel
* New reading and writing engine supporting both CDs and DVDs
* Works with most hardware, optimized for high quality CD/DVD writers
* Supports a large number of formats: BlindWrite 4.x (.BWT), CloneCD (.CCD), Iso images (.ISO), Cuesheet/Binary (.CUE/.BIN), Alcohol (.MDS)
* Voice notifications for program events
* Extended log information for easy technical support
* Multilingual support