Let BounceBack take all the worry and hastle out of backing up your valuable and irreplaceable digital lifestyle. Protect your investment in your digital photos and music libraries. Never lose your valuable documents. BounceBack Professional combines world-class ease of use with the features that knowledgeable users want and need.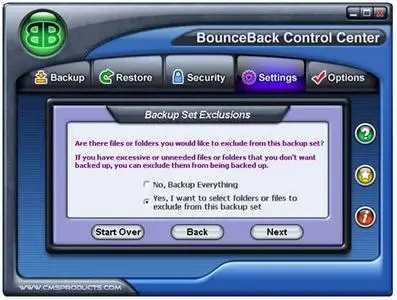 Powerful Features: Native file format backup: Files are instantly accessible on any PC!
*Bootable Backup: Boot from your backup drive for instant disaster recovery.
*Backup to any hard drive or any mounted network volume.
*Supports scheduling and multiple backup sets.
*Quick Restore provides a simple method of retrieving data.
*Protect your data with powerful AES encryption *
*Custodial Key access to encrypted files *
Fast Data Recovery
If you've ever had a hard drive fail or a computer stolen, you know the pain associated with the loss of data and the time associated with getting up and running again. BounceBack creates an exact copy of your computer hard drive enabling you to replace your failed hard drive with your backup drive or boot directly from your external backup drive (Mac only).
Quickly Restore Lost Files
Accidental deletions and misplaced files are a fact of life. Fortunately, CMS' QuickRestore feature offers immediate access to all previously backed up files. Just select the items to bring back and click on Restore.
Save Multiple Versions of Files*
Have you ever been working on a document, gone through several versions, and then realized the first or second draft was the best? With BounceBack, changed files are backed up and maintained individually allowing you to review and compare all backed up versions of the same file.