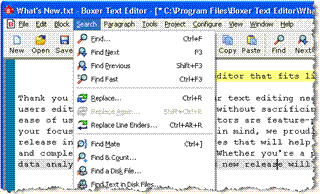 Boxer Software Boxer Text EDitor 12.0.1 | Win32 | Size: 4,13 Mb
When you use the right tool for a job, the job goes faster and you get more work done. Technicians and mechanics know this instinctively. It's no different in the field of text editing: when you use a professional text editor your work goes faster and more smoothly.
We've been selling text editors since 1991. We're experienced at what we do, and we listen to our customers. We've filled our Boxer Text Editor with the features and functions you need to make your editing tasks go as quickly and smoothly as possible.
Features:
* Powerful macro language
* Keystroke recording
* Color syntax highlighting
* HTML editing support
* Edit files up to 2 GB
* Color syntax printing
* Multi-level undo and redo
* Auto-Complete typing feature
* Active spell checking
* Manipulate column blocks
* Perl RegExp search and replace
* Reconfigurable keyboard
* User-configurable toolbar
* Extensive user configurability
* Power Columns editing feature
* Ctags Function Indexing support
* Open and edit files via FTP
* Project support
* Calculator, calendar, ANSI charts…
* Dual-monitor friendly