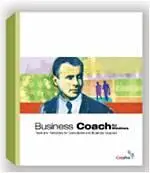 Business Coach version 1.2.161
Software |
www.corprat.com
| Rapidshare | 66.78 MB
Business Coach is a clever piece of software that will congratulate you when you do well and encourage you when you are not doing well. Business Coach will help you to prepare your business plans, implement systems and provide you with a range of tools, resources and ideas to get started. You will have instant access to the latest business ideas and systems.
Business Coach will summarise your day to day activities and provide you with concise reports and advise on what to do. Everything is handled by the sophisticated software engine that has been developed over years of research and consulting experience with businesses.
Takes less than 5 minutes to get started.
Business Coach will analyse your performance and provide you with advice that is unique for your business. It remembers how you performed in previous months and supplies you with scorecards so that you can record your company performance. Includes a one page business plan and marketing scorecard, complete with interactive video advice. Enter your company details and the real time video coach will each month give you marketing, competitive, employee and general advice.
Key Features
Easy to use, setup and get started.
Includes practical coaching tips tools and techniques to build your business.
Includes business planning and marketing scorecards
Includes advice on marketing, sales improvement, systems, employee and much more.
Reports that export to Microsoft PowerPoint and Excel.
Key Tools
One page business plan
Balanced Scorecard
Sales improvement strategies
Goal setting
Employee Motivation
Key Outcomes
Improve Sales
Improve Profit
Improve Employee Motivation
Improve Customer Satisfaction
Increase community awareness
Helps you to focus on your priorities
Helps you to manage your staff
Free of password.
http://rapidshare.com/files/36520704/BusCoa.rar