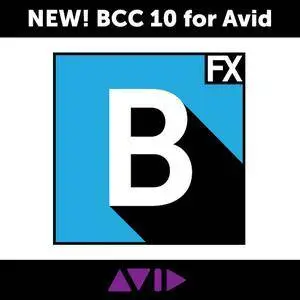 Boris Continuum Complete for AVX v10.0.1 CE | 106 MB
Boris Continuum Complete (BCC) gives Avid editors 240+ filters and 2500+ presets to boost creativity and increase efficiency without ever leaving your timeline! 
Make it in post
.
Discover New Features in BCC 10 for Avid: (view new features)
Integrated mocha planar tracking and masking tools • Beauty Studio • Title Studio • Image Restoration Tools  •  Light Leaks & Video Glitch • New Transitions
Integrated mocha planar tracking & masking
Imagineer's Academy Award-winning mocha planar tracking and masking engine is now integrated inside the BCC PixelChooser allowing editors to do more advanced finishing work without leaving the timeline.
BCC Beauty Studio
BCC Beauty Studio is a new skin retouching tool that gives editors the ability to smooth skin and reduce blemishes making their talent look better.
BCC Title Studio
BCC Title Studio is a next generation 2D/3D titling plug-in. Create professional broadcast titles and high quality motion graphics at any resolution.
New Image Restoration Tools
Three new filters are added to the already highly useful set of tools that fix, repair, and restore footage.
and more…
Compatibility
: Avid Media Composer, Symphony & Newscutter
Home Page
-
http://www.borisfx.com/products/continuum-complete/?tab=whats-new