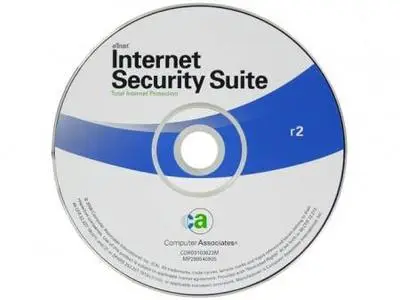 CA eTrust Internet Security Suite 2007 ver. 3.2.0.1 | 35.8 Mb | Windows OS
eTrust Internet Security Suite by CA (formerly Computer Associates) combines average antivirus and antispyware protection with Zone Labs' outstanding firewall, all behind an interface that isn't as well integrated as those of most other security suites we've tested. On the bright side: eTrust Internet Security has an excellent firewall (provided by Zone Labs) and solid adware detection. It also ranked first in our system disinfection tests, cleaning up the files, Registry changes, and Hosts-file modifications made by nine out of ten worms. (The one worm it could not clean was Lovegate.AI.) Its scan speed nearly matched the median speed of the ten products we tested, and its drag on system resources was insignificant.
eTrust Internet Security has a good feature set with privacy settings and parental controls, as well as antifraud tools. However, the components aren't as seamlessly integrated as their counterparts in other suites are. For one thing, you install the parental controls, offered through Blue Coat's K9 Web Protection, from a separate CD, which does nothing but provide you access to Blue Coat's Web site. And to configure undesirable Web-surfing categories (such as sex or drugs) on Blue Coat's site, you have to turn off the CA firewall's third-party cookie controls.
Features of CA's eTrust Internet Security Suite include:
eTrust AntiSpam:
Anti-Phishing and Fraud Protection
– Uses industry-standard authentication methods to determine if an email is actually from the sender indicated on the message, and displays a clear visual warning on suspicious emails.
Email Search
– Creates a search index of all information stored in Outlook for quick and easy access to messages, attachments, contacts, appointments, journal entries and notes. For English-language Outlook / Outlook Express only.
Spam Score
– Automatically 'scores' the spam in the Quarantine folder, allowing sorting of quarantined mail based on its likelihood of being spam.
Automatic Updates
– Notification when product updates are available for download, providing the latest features to defend against spam.
eTrust PestPatrol Anti-Spyware:
Spyware Detection and Removal
– Scans PCs for a wide range of destructive pests. Scan results provide a link to an extensive pest database for more information.
On-Demand Scanning
– Launches scans on-demand, or schedules regular scans to meet your needs. Custom scans allow selection of specific disks, files and folders to scan.
Real-time Protection
– Active Protection detects and removes active pests in memory.
eTrust EZ Antivirus
Real-time Scanning
– Scans files when they are opened, closed or saved to a PC.
Automatic Email Scanning
– Scans inbound email and attachments for all POP3 email clients.
Advanced Heuristic Scanning
– Stops new and unknown viruses even before they are detected by signature files.
eTrust Personal Firewall
Stealth Mode
– Makes PCs invisible to hackers and barricades its ports from attack.
Automatic Program Configuration
– Provides up-to-the-minute advice on which programs are safe and which are dangerous.
Identity Theft Protection
– Safeguards personal data with alerts to personal information leaving a PC through the Internet or email, allowing transmission to be blocked.
Ad Blocking
– Removes annoying pop-up and pop-under ads.
Blue Coat K9 Web Protection Parental Controls (available in English-language only, in North America and selected markets)
Pre-configured Protection Levels
– Choose from five pre-configured levels, which include different combinations of commonly blocked categories.
Customizable Web Filtering Policy
– Create a filtering policy that meets specific needs by choosing from over 55 unique categories.
Advanced Real-Time Site Rating
– Analyzes newly requested web pages in real-time, blocking undesirable sites even if they are brand new and have not yet been categorized.
Superior Ratings Database
– Maintains ratings of more than 8 million sites and domains, resulting in coverage of more than 1 billion web pages.