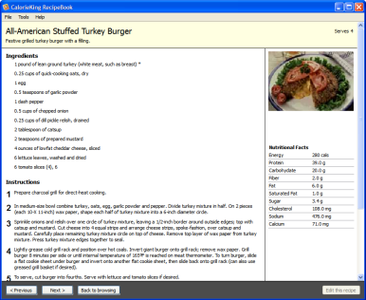 CalorieKing RecipeBook v1.0.4
Win App | 27.7mb | RS.COM
An easy-to-use recipe editor that enables users to rapidly enter recipes into a digital cookbook.
Once recipes are entered into the software, you can organise them into "recipe books" which can be browsed on your computer, or printed and organized in a 3-ring binder.
RecipeBook also includes a powerful search feature that allows users to quickly find and view recipes, without having to wade through stacks of paper or oversized books.
FEATURES
Easy-to-use recipe editor. Enter and organise your recipes, fast.
Powerful recipe search.
Sort your recipes into books for easy reference.
Print in a variety of great-looking formats for easy reference in the kitchen.
Comes with a 50,000+ food database, and helps you determine the nutritional content of your recipes.
Access your recipes from the CalorieKing Nutrition and Exercise Manager.
Ships with a great collection of recipes from CalorieKing.com to get you started.