ColorShade helps you create matching color schemes for your project. With just a few clicks you will have an attractive, harmonious color scheme. Other features include web preview, scrollbar preview, vector image preview, palette creator, and more.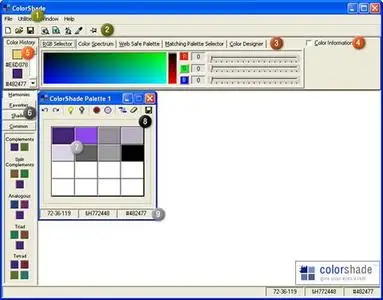 Some features of ColorShade :
- Different color-matching modes - RGB, Hex, CMY, CMYK
- Powerful Eyedropper Tool - quickly and easily select any color on your screen
- Matching Color Scheme Generator - creates 8 harmonious colors automatically
- Export to Adobe Color Table (.act) and Illustrator Swatch File (.ai)
For the extended list, go here :
http://www.colorshade.com/features.php
Link :
http://www.ftp2share.com/file/7275/CS251_JC.rar.html
pass : JiminyC
Enjoy !
JC
PS : a small note to Avax, I saw your old post on this one, but links are outdated ! regards ;)