Cripple Creek Software AudioLabel CD DVD Labeler 3.80 Retail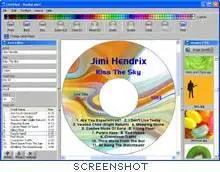 Cripple Creek Software AudioLabel CD DVD Labeler 3.80 Retail | Win32 |Size: 6.16 MB
AudioLabel CD DVD Labeler is smart cd label software that helps you create and print cd covers, jewel case inserts, and DVD case labels. Our cd label maker has been specifically designed for the audio enthusiast. After making a cd, most people don't print a cd label because they think it takes too much time. We've changed that way of thinking. AudioLabel cd labeling software can automatically find your album information (artist, title, and track list) and fill out the label for you. Easily add images, backgrounds, or photos using the integrated thumbnail viewer. You'll be able to make professional CD covers in just a few minutes.
Features:
Automatically Finds Album Information freedb
There's no need for typing when AudioLabel can recognize your CD and download the album information from the Freedb internet database. This database is enormous, and most likely contains every album in your CD collection. For mixed CDs, the album information can be found by searching the CDPlayer.ini file, or by reading CD-TEXT directly from your CD. And for MP3 enthusiasts, our cd label maker can even read and label your MP3 CD using the ID3 tag and filename.
lable maker Supports 99% of all labels and CD Printers.
Unlike other cd labeling software, you'll never be locked into a particular brand of paper. AudioLabel includes a cd label template for all popular brands including Avery, Allsop, Belkin, CD Stomper, Data Becker, Hewlett Packard HP, LabelGear, Meritline, Memorex, Neato, PressIt, Surething, and TDK. Even non-standard labels can be adjusted using the "Label Alignment Wizard". AudioLabel works with any cd label printer including Epson, Canon, EZ/CD Print, Microboards, Primera (Bravo & Signature), and Rimage Everest CD printers. No matter what kind of paper our cd label software can print your cd cover with ease.
Full Image Support mp3
Easily add images using the smart thumbnail viewer. The viewer supports many image formats and incorporates a simple "drag and drop" interface. You can quickly explore images in any folder or use the search function to scan your computer for thousands of images. And of course, our cd labeling software includes a cool art gallery that will get you started right away.
album cover Automatically Arranges Label Text
Arranging your label text is hassle free with "AutoFit" technology. This feature helps optimize the font size and arrange your text so it always fits in the space you specify. Your text is never allowed to go off the label, so you'll get a perfect fit every time. This feature is especially helpful when adding a large track list to the
CD cover.
Rapidshare
http://rapidshare.de/files/36246156/CrplCrekSftwrAdoLblv380.zip.html
No Password
Best regards,
WebGurru