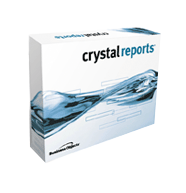 Crystal Reports Server XI
10 rar's, 1gb OS Windows
A Complete Reporting Solution
Address all steps in the reporting process with one tool: data access, report design, management and delivery, and report integration with portals and applications.
Crystal Reports Server XI provides:
· Web report delivery and management
Find out how you can manage and deliver reports to users inside and outside your organization.
· All the key features in other editions
Includes: data access; formatting and design; report viewing and interaction; application integration;
security and support.
· One report designer
This is the most featured released of the Crystal Report series of products.
Crystal Reports Server Key Features
Report Publishing Wizard
Easily publish multiple Crystal reports to the Web. The report publishing wizard provides a step-by-step guide to configuring and uploading Crystal reports to the Web.
Zero-Client User Interface
Give end-users instant, secure access to corporate reports over the Web with a single URL. Deploy the out-of-the-box portal or customize it using a portal integration kit.
Report Scheduler
Set up reports to run at specific times or based on specific events. Plus, schedule reports to generate in specific formats such as Excel, PDF, and RTF.
HTML Preview
The iterative report design/view process is streamlined, with a new HTML preview that allows report authors to see how reports will look when published to the Web.
Report Object Repository
Manage report related formulas, SQL commands, text objects and images in the object-oriented repository.
Security Options
Make sure the right people have access to the right information at the right time. Crystal Reports Server includes robust security options for user, group, object and folder levels.
Interactive Report Viewers
Print, export, and drill down on charts and other report objects, and conduct conditional searches within reports over the Web. ActiveX, DHTML, and Java viewers are included.
Home Page:
http://www.businessobjects.com/
Download text file with Rapidshare file list and serial number.
10 rar files x 100 mbx = 1 gb ISO
Text File:
Ftp2Share download