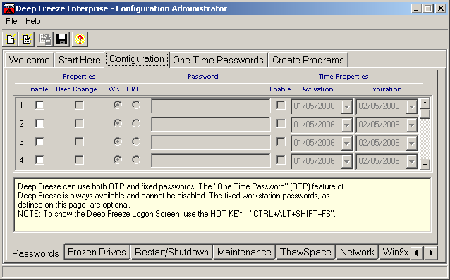 Deep Freeze Enterprise ver. 5.20.220.1125
Rapidshare | 21 Mb | RAR
If your computer is infected by virus or accidently deleted program files, just restore to its original setting as simple as reset your computer!
Deep Freeze instantly protects and preserves original computer configurations, eliminating routine IT maintenance while allowing complete unrestricted access to a workstation. Regardless of the changes made to a workstation, simply restart to reset the computer to its original state. The result is a protected, parallel network, free of viruses and unwanted programs.
While Deep Freeze provides bulletproof protection, its non-restrictive approach also improves user productivity and satisfaction. Placing no restrictions on a user's ability to access all system resources, users avoid the frustration of downtime due to software conflicts, operating system corruption, virus attacks, and many other problems. Users are always assured of computers that are consistently operable and available.
Download Here