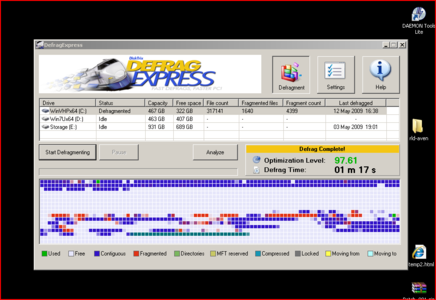 Defrag Express
WINDOWS | 1.53 mb
DefragExpress, a unique and clever defragger designed to make the process of defragging your hard drive as simple and fast as possible and at the same time restoring your hard drive performance file access performance to the level it should be while you are using your PC
Maintaining and minimizing hard drive fragmentation is critical to maintaining peak performance of your PC.
DefragExpress is designed to replace the default defragger that comes with your Windows based operating system – or any other defragger you use, for that matter.
DefragExpress is unique in that it uses a very clever method to defrag your hard drive as fast as practically possible and at the same time arranges files to minimize the rate of re-fragmentation. The defragging method used, developed at DiskTrix labs, is the most ideal one for defragging a hard drive.
While all other defraggers defrag, only DefragExpress defrags with the resultant file layout that gives you fastest complete defrags and slower refragmentation. While your very first defrag may take a while, you will find that all subsequent defrags are completed from anywhere between 1 to 10 minutes most of the time – regardless of how big your hard drive and how many files.
DefragExpress is very easy to use and requires no knowledge of files or fragmentation. All it requires is the ability to make a few mouse clicks here and there.
Defragging With DefragExpress
SETTINGS
Default recommended settings have already been set under Defragmentation Mode. You can change these settings if you wish.
Fast Mode: This method will defrag any fragmented files but does not consolidate free space.
Use Fast Consolidate: This option may leave occasional small gaps between files but will significantly reduce the time it takes to defrag. We recommend you leave this checked.
Move Directories Close To MFT: This option will consolidate directories adjacent to the Master File Table resulting in faster file access performance. We recommend you leave this checked.
Move Frequently Used Files To High Performance Area: This will place the files you use the most to the faster performing area of your hard drive. We recommend you leave this checked. Will very slightly increase defrag times but will result in faster hard drive performance.
MORE OPTIONS
Exclude Files Great Than XXXX Mb: This option lets you exclude large files from the defragmentation process. It makes for faster defrags and will not move or defrag files greater than the specified size. We have already set 1000 Mb as the default but you can change this to any size you want.
Set DefragExpress As Default Defragmenter: When you select this option, DefragExpress will replace the Windows XP/Vista defragger as the default defragger. When you right click on a drive and select Properties, then Tools, DefragExpress will be the defragger that is used when you click Defragmentation.
SCHEDULE
While DefragExpress runs on demand, you can also schedule defrags for when you are least likely to be using your computer – such as during the night. Simply select the drive(s) you wish to defrag on a schedule and configure the schedule to whatever frequency you want to, daily, weekly, monthly, even hourly.
If you put your computer to sleep at night and still want to run the scheduled defrag overnight, after you press configure schedule, in the Task Settings, select the option to Wake Up The Computer To Run This Task.
When Finished: You can choose what you want the computer to do when the scheduled defrag is complete.
Do Nothing
Exit DefragExpress
Shutdown the Computer
Please note also that scheduling is totally optional. After you first defrag is done, the file optimization is such that subsequent defrags do only take minutes and you may want to manually run the program while you take breather and watch the clever file placement at work.
TO DEFRAG
After you have customized your settings, the defrag, select the Defragment icon.
Analyze: Will analyze the drive and show you how many fragmented files and how many fragments.
Start Defragmenting: This will commence the defragmentation cycle.
The blocks showing the file layout and the legend are self explanatory.
Optimization level: This shows you how well optimized your hard drive is. It factors in both file fragmentation and free space fragmentation. It will rarely show 100% but anywhere from 95 or higher is as good as you need it to be. The optimization will display in the color green when it reaches 95%.
Defrag Time: This is how long the current defrag has been running. We chose to indicate this to highlight to you as the user how quickly your defrags complete.
That's all there is to DefragExpress. We trust you will see after you first use it why it is so aptly named.
TECHNICAL SUPPORT
For any tech support for this title, please e-mail defragexpress@disktrix.com or visit our website at
www.disktrix.com
.
Notice About Illegal Copies: Please ensure that you are using a legitimate paid licensed version of DefragExpress. DefragExpress will not defrag properly if the licensing system has been tampered with in any way. If you are not running a legal copy of DefragExpress, it will not properly defrag. The only way to achieve a complete and thorough defrag with DefragExpress is with a legitimate licensed version.
CREDITS
Product Concept And Project Lead: Robert Ferraro
Program And Coding By: Isatech Software
Published By: DiskTrix Inc
© 2009 DiskTrix Inc.