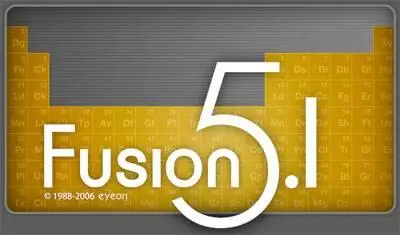 EYEON FUSION 5.1
-FINAL- &
EYEON FUSION RENDERSLAVE 5.1
-FINAL-
Fusion® 5 is a full-featured, node-based compositing system with
built-in backend tools via a powerful scripting engine with
ODBC support. A perfect balance between a backroom power tool and
a front room client station, Fusion 5 has it all.
Not only does Fusion 5 have a real 3D environment with camera/lights
support for leading 3D packages, it is also one of the most powerful
and intuitive 3D particle systems on the market.
With hardware-accelerated 3D capabilities, you can now migrate from
pre-vis to finals within the same application. eyeon's Fusion is a true
synergy of 2D and 3D tools for ultimate compositing.
Fusion 5.1 boasts an impressive growth in features to streamline
the workflow and push production capabilities. Some of the numerous
features include:
# The 3D system has new tools for projection and geometry manipulation,
such as bending and displacement. The Open GL interface exploits
additional GPU power to deliver more realistic lighting.
Further enhancements include importing of models and scenes in FBX,
OBJ and 3DS.
# Fusion¿s unique flow workspace has new organizational improvements
to help layout compositions, with elbow nodes to control the flow and
custom colorization for rapid identification of key areas.
# Paint introduces new multi-stroke cloning that dramatically speeds up
the performance of retouching, dust busting, and general painting.
# Version 5.1 also introduces a new Render Slave called Console Slave.
This is a command line-driven version to better interface with
third party render managers.
http://www.eyeonline.com
INSTALLATION:
––––––
1. Unzip & Unrar, check Crack/install.txt
2. Enjoy it
Download:EYEON FUSION 5.1
Fusion_5.1.part1.rar 28.6 MB
Fusion_5.1.part2.rar 17.6 MB
EYEON FUSION RENDERSLAVE 5.1
Fusion_Renderslave_5.1.rar 19.4 MB
Pass:
uboneti