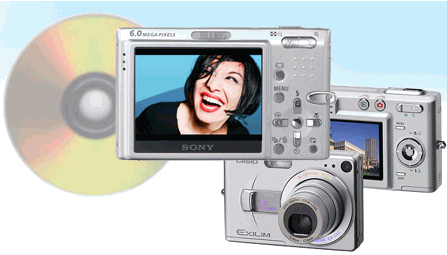 Digital Camera Media Studio v1.0 | Windows XP/2000/NT/Vista | 8.7 MB
Home Page:
http://www.makayama.com/digitalcamera.html
A world's first:
watch movies, TV and video on your Digital Photo Camera ! Use your camera as portable media center. DVDs, recorded TV, downloaded films and all other video content can be watched on your Sony Cybershot or Casio Digital Camera, in great quality, in full screen. The software installs on your PC, you insert a DVD or pick a video from your harddrive and with only two clicks, you have it on your camera, ready to watch on the go. A 512 Mb memorycard is enough to store a couple episodes of a tv-series, a full length feature film, or hundred minutes of video presentations. Let your children watch their favourite TV-cartoons in the car or watch a blockbuster movie while travelling for business. Connect your camera to a TV set (with the tv-out cable that comes with the device) and your camera doubles as a super-compact DVD/video player that displays the media content on TV. This PC software converts all media (AVI, 3GP, MPEG, VOB), coming from any drive (hard disk, DVD, CD, etc) to a portable movie file, which will play on any compatible SONY or CASIO camera, from a postage stamp size memory card. This is the first and only software wordlwide that can encode the Sony MPEGMOVIEVX format. Subtitled and foreign language DVDs are also supported. You may read the manual or the press release for more information.
Software runs on:
Windows XP/2000/NT/Vista and the listed Sony Cybershot and Casio digital still camera's. A minimum of 512 Mb memorycard is needed for a full DVD.
Download @ RapidShare
MD5: b670fdf46b0aa10d9bd59931abdb8534
Thanks to rG