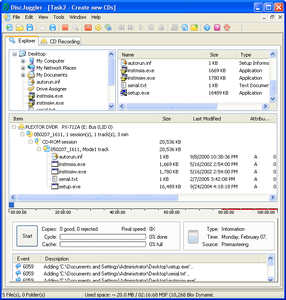 Shared Network Writer(s)
Share a workstation's disc writing drives on the network to other machines
(one at a time), allowing them to have disc writing capabilities.
Intuitive User Interface
The current interface provides complete control over the disc writing
process, and it will only improve as time passes.
Accurate Audio
Support for PQ (index points and variable gap size), R-W (CD+G/Karaoke)
subcodes, and on-the-fly audio stream re-synchronization.
Robotic Controls
DiscJuggler Professional Edition is available with embedded robotic control
support by autoloader manufacturers with their high-quality products.
Download Link:
http://rapidshare.de/files/19538945/djp46.rar.html