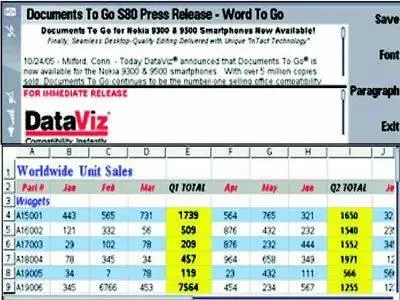 Documents To Go ver. 2.00 | 1,7 Mb
Documents To Go for Symbian Series 80 is a revolutionary application that allows you to use, edit and create actual Microsoft Word and Excel files on your Nokia 9300 Smartphone and Nokia 9500 Communicator. Now you can truly stay productive no matter where you go or how you receive your files- whether via e-mail attachments, Bluetooth, IR,MMS or external memory cards.
Simply put, InTact is groundbreaking, never before seen technology that keeps all original document formatting "intact" no matter what you do to the file. With it, you can use your real Microsoft Word and Excel files with complete confidence because you're not working on a copy of a converted Word or Excel file; you're working on the actual file on your smartphone.
Link:
http://rapidshare.com/files/4061641/acb7DTG.rar
Previous:
Viking Mp3 Player for symbian cracked - BiNPDA ( v3.50 for S60 and v3.41 for S80)
http://rapidshare.com/files/2906268/acb5Vm.rar
Viking Mp3 Player Cracked _SyMPDA v3.52for S60 and S80
http://rapidshare.com/files/2980622/acb6Vm.rar
Salling Clicker ver. 3.0.1
http://rapidshare.com/files/1555153/acb4SC.rar
ProfiMail v 2.60
http://rapidshare.de/files/37411775/acb3PM.rar
ProfiMail v 2.37
http://rapidshare.de/files/37408869/acb2PM.rar
SmartMovie Ver.3.25
http://rapidshare.de/files/37209014/acb1SMS60.rar
http://rapidshare.de/files/37209953/acb1SMS80.rar
http://rapidshare.de/files/37211225/acb1SMSUIQ.rar
(pass for all:
www.AvaxHome.ru
)