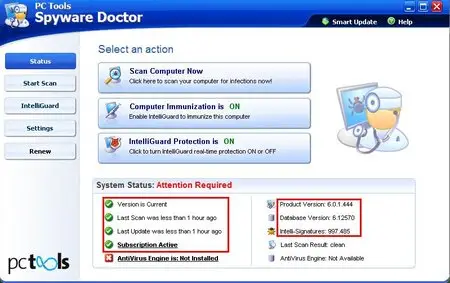 Spyware Doctor 6.0.1.444 Multilanguage | 26 MB
Spyware Doctor™ provides three-way spyware protection for your PC through real-time threat blocking, advanced system scanning and immunization against known browser infections. Spyware Doctor is a multi-award winning spyware removal utility that detects, removes and protects your PC from thousands of potential spyware, adware, Trojans, keyloggers, spybots and tracking threats. Protect your privacy and computing habits from prying eyes and virtual trespassers with the help of Spyware Doctor. Anti-virus software and firewalls do not fully protect your system against the majority of spyware and privacy threats. Because spyware is commonly bundled with software downloads, attached to e-mails, or transmitted through networks it can appear to be legitimate software, but once installed it can be nearly impossible to detect and remove without the help of a dedicated spyware removal tool like Spyware Doctor.
Spyware Doctor Full Version Information
Current Version: 6.0.1.444
File Size: 23,877 KB
Operating System: Designed for Windows® Vista™ 64-bit SP1, Vista™ 32-bit, XP (Home and Professional Editions) and 2000. Windows® 98 users click here.
Release Date: June 9, 2009
Protection Against: Spyware, Adware, Spyware Trojans, Keyloggers, Identity Theft, Hijackers, Tracking Threats, Rogue Anti-Spyware, Unwanted Software, Phishing, Popups and Bad Websites.
Add-ons: Optional plug-ins are available for Spyware Doctor including Site Guard, Email Guard and Behavior Guard
Homepage -
http://www.pctools.com/spyware-doctor/