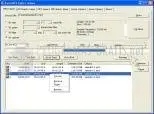 fastmp3 cutter&joiner2.5 | 3.5MB
Sometimes, when you edit your audio files, if you join them together the result is a little abrupt, not very elegant, and far from being professional. This means you need Fast MP3 Cutter Joiner.
Fast MP3 Cutter Joiner is a professional tool that lets you fragment any MP3 file, making the cut as precise as possible. You can specify the size in bytes or in time duration, and so you will cut or extract exactly the fragment of MP3 you want.
Once extracted Fast MP3 Cutter Joiner lets you unite it and join it to another MP3 fragment, and that union is smooth and elegant so that there are no sudden changes despite them being different MP3 files. It also has tools to edit the ID3 tags.