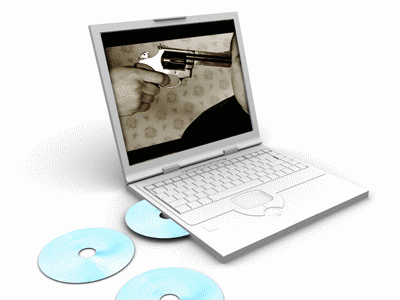 DVD to PocketPC v4.0
Put your home movies, DVDs or TV programs on your Pocket PC and watch them in great quality, with stereo sound and in full screen landscape mode. A memorycard as small as 128 Mb is enough to store a full length feature film,or tv-shows and home movies up to a hundred minutes.

New Cyberspeed technology ensured 350% faster DVD conversions: put a full length feature film on your Pocket PC in less than 45 minutes. Holiday travel will be so much more relaxed and kids love to watch movies and tv in the car. With only two clicks, this PC software converts the content of your videofile or DVD to a super small movie file, which will play on any Windows Mobile 2003 device, such as HP iPaq, on a postage stamp size memory card.

You can use a headset or the built-in speaker to listen to the sound. Subtitled and foreign language DVD's are also supported. You will have to see the quality to believe it, using Microsoft's supreme Windows Media 9 encoding, home movies and feature films look crisp and sharp on your Pocket PC and still fit on a relatively small memorycard. On a 1 Gigabyte card, you can even 8 films or 16 hours of TV programs!

Compatible with all Pocket PCs with Windows Mobile 2003 or 2005, incl: Acer,n10, n20,n20w,n30,AnexTEK SP230,Asus MyPal A600, A620, A620BT, A716 , A730,Audiovox 2032SP, 5050, 6700, Maestro PDA1032, PDA1032C, PPC 4100, PPC-6600, PPC-6601, Thera, XV6600,Casio EM500,Dell Axim X3,X30,X3i, X5,X50, X50v, X51v, Dopod 686, 696 ,E-TEN P300,P300B, Fujitsu Siemens Pocket Loox,Hitachi G1000, HP iPaq 3870, 3950, 3970, h1910/1920, h1915, h1930/1940/1945, h2210/2215, h3100/3600/3700, h3700 Series, h3800 Series, h3900 Series, h4150/4155, h4150/4350, h4350/4355, h5100/5400/5500, h5450/5455, h5500/5555, h6315, hw6510, hw6515, hx2110/2115, hx2410/2415, hx2750/2755, hx4705, rx3115, rx3415, rx3715, rz1710, rz1715, rx1950, rx1955, i-mate Pocket PC, JASJAR,K-Jam, Mitac Mio 168, 336, 337, 338, 339,528,558, A701, HTC Universal, Wizard, Motorola MPx,MoviStar TSM500,NEC 250e, 300e,P300,O2 xda,Xda II,Orange SPV M1000, M5000, Packard Bell PocketGear 2030, 3025,Qtek 1010,2020, 9090, 9100, Samsung M400/M4000,Samsung SPH-i700,i730, Siemens SX45, SX56, SX66, P50, Sprint PPC 6700, T-Mobile MDA II, MDA III, MDA IV,MDA Compact, Mda Pro, T-Mobile Phone Edition, Toshiba 2032,e310,e330, e350,e400/e405,e550Te570,e740, e750 Series, e800/e805,Genio-e, Palm Treo 700w, ViewSonic Pocket PC V35, V36, V37, Verizon XV6700.
Size: 9.64MB
Homepage
http://www.makayama.com/
Download Full
http://rapidshare.com/files/5916418/rgdvBal120306.rar.html
Pass:http://www.balrogf.comMore Downloads
@
<b><a href="http://cutt.red/iemieJiw6eeJ?search=DVD%20to%20PocketPC%20v4.0" rel="nofollow noopener" onclick="log_click('DVD%20to%20PocketPC%20v4.0', 'cutt.red'); return true;" target="_blank" rel="nofollow noopener noreferrer">BALROG FORUM</a></b>
www.balrogf.com