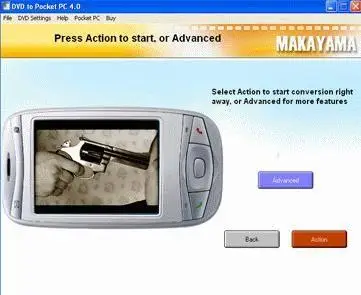 DVD To Pocket PC 4.0 | 10Mb
Put your home movies, DVDs or TV programs on your Pocket PC and watch them in great quality, with stereo sound and in full screen landscape mode. A memorycard as small as 128 Mb is enough to store a full length feature film,or tv-shows and home movies up to a hundred minutes.
ew Cyberspeed technology ensured 350% faster DVD conversions: put a full length feature film on your Pocket PC in less than 45 minutes. Holiday travel will be so much more relaxed and kids love to watch movies and tv in the car. With only two clicks, this PC software converts the content of your videofile or DVD to a super small movie file, which will play on any Windows Mobile 2003 device, such as HP iPaq, on a postage stamp size memory card.
You can use a headset or the built-in speaker to listen to the sound. Subtitled and foreign language DVD's are also supported. You will have to see the quality to believe it, using M'zoft's supreme Windows Media 9 encoding, home movies and feature films look crisp and sharp on your Pocket PC and still fit on a relatively small memorycard. On a 1 Gigabyte card, you can even 8 films or 16 hours of TV programs!
Download
http://www.ftp2share.com/file/16509/DVD.to.Pocket.PC.4.0.rar.html