PORTABLE DVD Region+CSS Free v5.9 - Run from USB stick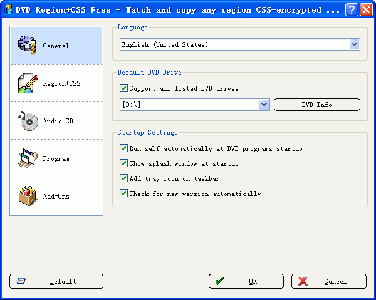 Only 1.3 MB | Includes an exe that is already cracked | simply copy the app folder to the USB stick and run from there | v5.975
This is not a repost, its a fully portable and cracked version of the application.
Portable DVD Region+CSS Free v5.975 enables you to watch and copy any region-coded/CSS-encrypted DVD movies on any DVD drive! It fully supports region-protected (RPC2) DVD drives, and does not require any firmware modifications. It will even work if you have used up your region counter and can no longer change the DVD drive's region.
Portable DVD Region+CSS Free works automatically in the background to make a DVD appear region code free and unprotected to any DVD player and DVD copy software. With the help of DVD Region+CSS Free, you can watch any region coded DVD movies with a software DVD player like PowerDVD or WinDVD! With DVD Region+CSS Free's help, DVD copy software (such as DVDFab, DVD X Copy, InterVideo DVD Copy, etc.) is able to copy DVD's which are CSS protected!
New Feature: DVD Region+CSS Free decrypts not just DVD's, it now allows you also to play, copy and rip protected Audio CD's!
Home:
http://www.dvdidle.com
NOTE: You must enable the DMA of DVD drive and HD drive, or else the DVD playback may be jerky. How to enable DMA?
http://www.dvdidle.com/dma.htm
Download:
http://rapidshare.de/files/17462795/PortDVDRegCSSFre5975.rar
Rar password:aglihp