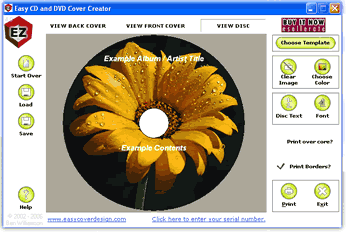 Easy CD and DVD Cover Creator ver.4.12 | 1.6 Mb | Windows OS
Easy CD & DVD Cover Creator you can easily create CD labels, DVD labels and inserts for jewel cases and DVD cases with one of the web's most popular label making software.
Easy CD and DVD Cover Creator makes designing CD and DVD covers easy, quick and fun. Load your own images or use one of our colorful template covers like Christmas, Birthday, Valentines and Weddings! Print your CD and DVD Labels and covers on standard plain paper, sticker labels and case templates.
Thousands of happy users can't be wrong: Easy CD & DVD Cover Creator is the one of the most popular cover editor software products on the market today. Our cover designer puts the power in YOUR hands and gives you the easy to use tools to create decorative, imaginative and original art for your CD's and DVD's. Whether you want to add a picture to your baby's first DVD, or you need to create a great looking label for your MP3 tracks, Easy CD & DVD Cover Creator can help you do it quickly and without a lot of hassle.
Best of all, Easy CD & DVD Cover Creator is fun to use, and its easy to learn interface means you can be an expert user right away. Easy CD & DVD Cover Creator even allows you to upload your own photos so you can use them to decorate your CD's or DVD's. Easy CD & DVD Cover Creator also comes with many colorful and interesting templates that can be used over and over again!
Create a great cover design for the CD of love songs you're giving your significant other for Valentine's Day with an easy-to-use template. Make a creative label for the DVD of your child's first Christmas with another template. With so many great customizable designs, you'll get the results you desire the first time without any difficulty on your part.
When you're ready to print, Easy CD & DVD Cover Creator even comes with the ability to choose how you want to print your CD cover, DVD label, or case covers. You can print on plain white paper, sticky labels and case templates.
Every feature of this program has been designed for you to handle it with ease. Even if you have trouble navigating most computer programs, you'll find this one a cinch, and you'll fall in love with your new cover editing abilities. It may just become your favorite hobby.