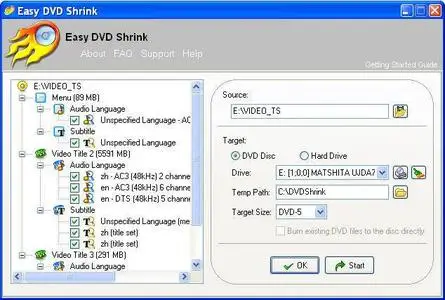 Easy DVD Shrink is an easy-to-use DVD copying software to get perfect duplicates of your favorite movies on DVD or Hard Drive with just a few clicks. The shrinking engine can fit any DVD video (up to 9.4GB) on to your DVD disc (4.7GB/Single Layer or 8.5GB/Dual Layer) with no loss of content or quality. It preserves all existing DVD contents including original menus, trailers, language tracks, subtitles, and etc. You can freely adjust the target sizes of your DVD backup. We proudly offer an unconditional 30-day money-back guarantee!
Here are the tips to successfully copy your DVDs:
· Ensure the DVD you wish to copy is clean (no finger prints) and not scratched.
· Use high quality recordable DVD disc like Verbatim, Sony, Fuji, etc. Avoid using cheap discs. Always refer to the DVD writer manufacturer for the list of recommended discs for your DVD writer drive.
· Ensure you have sufficient hard-disk space (at least 4.3 GB).
· If you are using external USB DVD drive, please make sure it is connected to the computer directly without using USB hub.