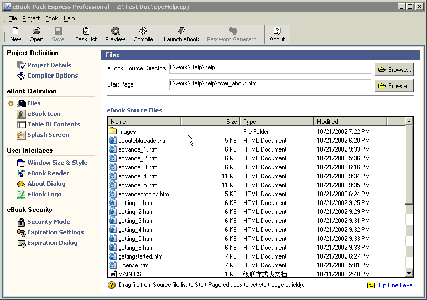 «eBook Pack Express 1.75 build 0375 - Professional Edition»
Download Size - 2,25 Mb |
Password:
spiderman
Description:
eBook Pack Express
is very user-friendly and has all the features needed for professional ebook creation.
Create your own ebooks, ezines, manuals…
Turn you valuable information into eBooks, ezines, booklets, catalogs and/or multimedia presentations. To sell online for huge profits or to give away to generate incredible traffic to your website!
Start your own business now. Create ebooks with eBook Pack Express! It is really an advanced e-book creation software and one of the most efficient Internet marketing tools!
Compile your favorite web site/pages into a single .EXE file.
Using this ebook software you can compile your innumerable off-line web content (HTML and graphic files) into self-executable eBooks. Free up space on your computer and keep your files in order by making your own ebook library.
As soon as you download this ebook compiler, you'll have at your fingertips all the tools you need to start publishing your own ebooks!
Features:
Set a time-delay of splash screen.
Close the splash screen by clicking the mouse or by pressing any key.
Set window position for ebook starts.
Customized background image is supported in 'About' dialog.
Tooltip text for Logo image is supported.
A link (URL) can be specified for the logo image. Click the logo graphic to open the URL.
A new security mode - 'Single Password' - has been added.
eBooks can be set to expire. Three expiration modes are supported.
eBook expiration dialog is customizable.
Works great with: PDF, Flash, ActiveX, Javascript, Dynamic HTML, VBScript, video and audio files.
Full-Text search in eBooks.
Anti-Snapping. Prevent screen capture softwares (like Snag-It) from capturing your ebook text and graphics.
No temporary file is created on your local disk. All eBook pages are processed quickly and securely in memory.
Set window position for ebook start.
Task List
You can always know what you should do next: work step by step with the Task list.
Powerful eBook Reader
The eBook Reader contained in eBook Pack Express uses Internet Explorer as its internal rendering engine. You can use any technologies supported by Internet Explorer 4.0 or higher to author your eBooks. These technologies include: DHTML, Java Script, Flash, etc.
eBook ID
Every eBook is assigned a GUID (Globally Unique Identifier) so each ebook has an unique identify. The eBook ID is generated automatically when you create each new project. An eBook ID looks like: {BF9A9FCF-16AD-4A9E-9C01-79C785BB7598}. You can also change it, if you wish, when designing your eBook.
Control The Speed Of Compressor
The eBook compiling process may be extremely slow if your eBook Project contains a high number of source files or if your source files are very large. The default compiler setting is: Better Compress Ratio which has the highest compression ratio. You can change the setting to Faster Compress Speed, but the compress ratio will be lower.
Self-executable eBooks
Your eBooks self-executable; which means: your readers can download and then view your eBooks by simply double-clicking on the eBook icon. No extra software needs to be downloaded or installed. Our embedded eBook reader is well-designed and size-optimized, it only adds about 200KB overhead to a completely compiled eBook.
Customized Icons For Your eBooks
Don't like the default eBook icon? No problem, the eBook compiler supports eBook icon replacement. You can choose any 32x32 -16 color, 32x32 -256 color and 32x32 -true color icon to customize your eBooks icon.
Splash Screen
You can display a splash image when eBook opens and also set a splash screen delay-time. The embedded eBook reader supported image formats include: JPEG, GIF, BMP, and WMF. The splash screen can be set to close by clicking the mouse button or by pressing the keyboard.
Customized background image is supported in 'About' dialog.
Table Of Contents (TOC)
eBook Pack Express provides a easy-to-use TOC editor. You can build TOC for your eBooks simply by dragging your content.
Logo Rebrand
Replace the right-top logo image in eBook reader with your own logo. The eBook compiler supported logo image formats includes: JPEG, GIF, BMP, ICO, and WMF.
Tooltip text for Logo images is supported.
Specify a weblink with your logo image. This URL will open when the reader clicks on the logo graphic.
Access to all pages or selected pages can be restricted.
Disable Copy/Print/View Source Code/Context Menu.
Encrypt whole eBook or only selected pages
eBook Pack Express provides four security modes:
Single Password – You can define a single password for your ebook. Readers will be asked for their password when encrypted pages are accessed.
Password Only – In this mode, the password is generated by the 'Password Generator' and readers will be asked to enter a password when encrypted pages are accessed. In order to prevent readers from sharing one password, you can assign different passwords to each ebook.

Username + Password – You can also choose to assign each reader a unique password for your eBook. This allows you to track individual readers.

Computer ID + Password – This is the highest secure mode. Only the one computer, with the assigned password, can display the encrypted contents.
Multiple Expiration Settings
Expiration modes include:
Set a limit on how many times the ebook can be opened – The reader cannot open the ebook after the time limit set by the author has been reached.
Set a specific date – The ebook will no long be available on the date defined by the author.
After a specified period of time – The ebook will not be available after several days. You, as the author, can define how long to allow access.
eBook 'Expiration Dialog' is customizable.
Password Generator
Easily manage passwords for your eBooks.
Download Here
Password:
spiderman