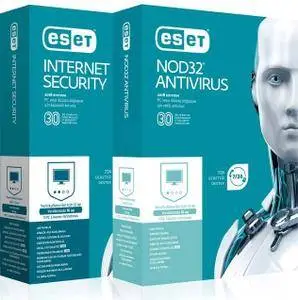 ESET Internet Security / NOD32 Antivirus v11.0.159.0
Antivirus | OS: Windows XP/Vista/7/8/8.1/10 (x64x86) | Size: 432 MB + 433 MB
Language: Italian | Extra: Quick Start Guide, User Guide
ESET garantisce la difesa definitiva contro le minacce provenienti da Internet, quali il cyber crimine, le e-mail indesiderate e gli hacker, aggiungendo alla protezione antivirus avanzate tecnologie firewall e antispam. L'ultima generazione di ESET NOD32 Antivirus vanta la tecnologia più veloce ed efficace realizzata per proteggere il sistema da virus e spyware senza rallentare il computer mentre è impegnato nel lavoro o in attività di gioco.
ESET NOD32 Antivirus
Metti al sicuro i tuoi dati e la tua identità digitale. Con questa nuova edizione di NOD32 Antivirus avrete a disposizione anche il nuovo sofisticato sistema antifurto per il vostro PC portatile: Anti-Theft.
Questa sorprendente funzione vi garantirà la totale tranquillità anche quando utilizzerete il vostro portatile in viaggio, in ufficio, alluniversità o al bar! In caso di furto o smarrimento, dovrete avvisare ESET che attiverà immediatamente la ricerca automatica del dispositivo. Nel momento che il PC dovesse collegarsi in WiFi, potrete localizzarlo, accedere ai documenti in esso contenuti e persino registrare con la webcam chi lo sta utilizzando, senza che questo se ne accorga!
-
Metti al sicuro i tuoi dati e la tua identità digitale
ESET NOD32 Antivirus 11 offre un potente scanner antivirus e antispyware, garantendo una protezione ottimale e salvaguardando la tua vita online senza appesantire il tuo sistema.
-
Leggero, potente e facile da usare
Il motore antivirus e antispyware ThreatSense di NOD32 garantisce la protezione del tuo computer usando un quantitativo di risorse molto ridotto, vigilando sulla sicurezza del tuo sistema senza appesantirne le prestazioni. La sua interfaccia utente è semplice da usare ed elegante, concepita con cura per offrire la massima facilità d'uso.
ESET NOD32 Antivirus protegge il computer grazie a un'avanzata rilevazione proattiva che blocca la maggior parte delle minacce conosciute e quelle ancora non scoperte, con ore o addirittura giorni di anticipo rispetto alle altre tecnologie di sicurezza.
-
Condividere in sicurezza
Le minacce informatiche non provengono tutte da Internet. Il controllo in tempo reale di tutti i media rimovibili protegge il sistema da potenziali file infetti presenti su memorie USB, CD e DVD.
-
Intuitivo e ricco di funzioni
Se desideri installare un antivirus con facilità, senza spendere ulteriore tempo a modularne le funzioni, ESET NOD32 è la scelta giusta per te. Disegnato per facilitare l'accesso a tutte le sue funzioni principali, tramite la sua interfaccia grafica è molto semplice modificare rapidamente le opzioni più importanti e venire informati sugli eventi più significativi, quali la disponibilità di un aggiornamento per il sistema operativo o l'identificazione di un virus.
ESET Internet Security
Una soluzione di sicurezza per la navigazione web di tutti i giorni. Protegge la tua privacy e la tua identità online garantendo sempre il miglior equilibrio tra velocità, rilevamento e facilità d'uso.
Proteggi la tua navigazione quotidiana
ESET Internet Security garantisce una valida protezione agli utenti che tutti i giorni navigano sul web, assicurando la miglior combinazione possibile di rilevazione, velocità e semplicità d'uso. Oltre alla protezione dell'Antivirus, ESET Internet Security difende la webcam da tentativi di accesso impropri, permette di verificare la sicurezza del router Wi-Fi di casa e garantisce acquisti online e pagamenti bancari sicuri attraverso uno speciale browser protetto.
Pagamenti bancari e shopping online al sicuro
Fornisce uno speciale browser ultra-sicuro dal quale è possibile procedere a operazioni di pagamento. Ti protegge automaticamente sui siti web delle banche e opera una cifratura delle comunicazioni fra la tastiera e il browser per aumentare la protezione delle transazioni. Protegge anche dai keylogger.
Controllo della webcam e del router
Controlla costantemente tutti i processi e le applicazioni in esecuzione sul tuo computer, per verificare quali di queste usano la tua webcam. Ti segnala ogni tentativo inaspettato di accedere alla tua webcam e ti permette di bloccarlo. Controlla inoltre le vulnerabilità del tuo router Wi-Fi di casa e ti permette di accedere facilmente all'elenco dei dispositivi connessi.
Protezione da attacchi basati su script
Rileva gli attacchi provenienti da script pericolosi che tentano di sfruttare Windows PowerShell. Rileva anche i javascript pericolosi che possono attaccarti attraverso il tuo browser. I browser Mozilla Firefox, Google Chrome, Microsoft Internet Explorer e Microsoft Edge sono tutti supportati.
Compatibile con l'ultima versione di Windows 10
Realizzato per supportare appieno Windows 10 e il Windows Action Center, già introdotto e supportato in versioni precedenti del sistema operativo.
System requirements
- Windows 10, 8.1, 7, Vista, Home Server:
- 1 GHz 32-bit (x86) or 64-bit (x64) processor
- 512 MB (1 GB for Vista x64) RAM of system memory
- 320 MB available space
- Super VGA (800 × 600)
HomePage
:
www.eset.com
Per scaricare Altri PROGRAMMI in ITALIANO CLICCA QUI
>>> Visit My Blog Here <<<
Subscribe to My Newsletter!
If you like this release please support Developer / Publisher and BUY it.
If you'll find that my links are dead please let me know through the Private Messages.
Please DO NOT MIRROR

Password:
programmi