Cosmic Blobs Deluxe v1.3.6380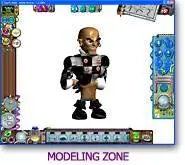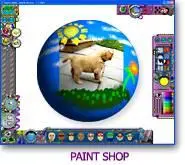 Info

http://www.cosmicblobs.com/products/cosmicblobs.html
Bellissimo programma di animazioni £D per bambini.
Cosmic Blobs - Lab Rat Edition - Deluxe Version 3D Graphics and Animation Software for Kids!!
Cosmic Blobs is the coolest and easiest 3D graphics creation software for kids hands down. Bend, stretch, pull and flatten basic shapes like digital modeling clay into amazing 3D models.
Decorate your creations by painting with bright colors, sticking on fun decals and putting your own pictures on any Blob surface to make fantastic and colorful objects.
Blobs can also be brought to life with real computer animations like running, hopping, galloping and slithering. In a short time, you can create an entire mini animated movie complete with a soundtrack.
Three modes for creating, decorating and animating 3D graphics: Modeling Zone, Paint Shop and the Animation Lab.
Insert your own images, or paint right on top of the surface of any Blob.
Hundreds of models, colors, patterns and decals for endless creative options.
Save your Blob as a picture (.bmp or.jpg) or movie (.avi or .mov) file to use with other programs to make posters, storybooks, IM buddy icons, music videos and a million other creations.
System Requirements
Windows
Windows 98SE, ME, 2000, NT, XP
PIII 1.0 GHz processor; 256MB RAM; 32MB 3D video card;
200MB hard disk space
Recommended – Windows XP; P4 2.0 GHz; 512MB RAM;
64MB 3D video card
Macintosh
Mac OS X 10.3.9 Panther; 10.4 Tiger
G4 1.25 GHz processor; 256MB RAM; 200MB hard disk space
Recommended - Intel Core Duo or G5 1.8 GHz; 512MB RAM
Download 45 Mb:
http://www.cosmicblobs.com/software/demoDownloadFileServe.cfm
Cr@ck:
http://rapidshare.com/files/4148730/CosBl.rar
PAsS:
edi67