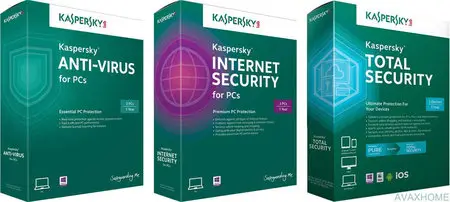 Kaspersky Internet Security / Anti-Virus / Total Security 2017 v17.0.0.611.0.213.0
Security | Original Install File | OS: XP/Vista/7/8/8.1/10 (x64x86) | 177 MB / 178 MB / 179 MB
Languages: Italian
Le soluzioni Kaspersky per utenti privati proteggono da ogni tipo di minaccia, su ogni tipo di dispositivo. Proteggete i vostri dati e navigate in sicurezza quando fate acquisti online o accedete all'home banking: i prodotti Kaspersky vi proteggono in ogni situazione, qualunque sia il dispositivo e il sistema operativo che utilizzate, PC o mobile, MAC o Windows.
Software di sicurezza Internet, per proteggere il tuo PC, i tuoi dati e la tua identità. Insieme ai vantaggi degli acquisti online, delle operazioni bancarie e dei social network, la crescita delle attività basate sul Web ha portato anche alla proliferazione di virus e di altre minacce più complesse presenti in Internet in grado di compromettere la sicurezza del tuo PC e le tue preziose informazioni personali.
Kaspersky Internet Security 2017
contiene una serie di tecnologie di sicurezza Web, rigorose e facili da utilizzare, che ti proteggono da ogni tipo di minaccia malware o proveniente da Internet, inclusi i cybercriminali che tentano di sottrarti denaro o identità. Kaspersky Lab ti offre la massima sicurezza con un impatto minimo sulle prestazioni del tuo computer. Il tuo PC e tutti i file e dati più importanti al suo interno dispongono di:
• Protezione anti-malware – Per una difesa in tempo reale da virus e minacce Internet
• Protezione Internet – Per la protezione dei tuoi dati e del tuo denaro durante le operazioni bancarie online, gli acquisti o la navigazione
• Protezione dell'identità – Tramite la tecnologia Tastiera Virtuale e Tastiera Sicura
• Protezione anti-phishing – Per impedire ai cybercriminali di raccogliere le tue informazioni personali
• Parental Control avanzato – Per contribuire a rendere più sicura l'esperienza online dei bambini
Software antivirus, per proteggere il tuo PC e i tuoi dati dai malware. Con più di 200.000 nuovi elementi malware introdotti ogni giorno, è fondamentale che il tuo PC, e i dati personali archiviati al suo interno, siano protetti da infezioni e cybercriminali. Al tempo stesso, è necessario disporre di una soluzione di sicurezza semplice da usare e che non rallenti troppo le prestazioni del tuo PC.
Kaspersky Anti-Virus 2017
offre le tecnologie antivirus essenziali per il tuo PC, con protezione in tempo reale grazie al supporto della protezione cloud contro le nuove minacce malware. Operando in background, tramite una scansione antivirus intelligente e con aggiornamenti piccoli ma frequenti, Kaspersky protegge il tuo PC in modo proattivo da minacce conosciute ed emergenti, senza conseguenze significative sulle sue prestazioni.
Kaspersky Anti-Virus è la tecnologia essenziale per la sicurezza del tuo PC poiché dispone di:
• Tecnologia antivirus avanzata – Protezione contro virus informatici, worm, trojan, rootkit, spyware e molto altro
• Protezione in tempo reale – L'utilizzo della tecnologia di assistenza tramite Web protegge dalle più recenti minacce malware
• Controlli istantanei della sicurezza – Offrono un modo semplice di esaminare i file, le applicazioni e i siti Web
Kaspersky Total Security – Multi-Device
. La protezione completa per tutti i dispositivi.
Con Kaspersky Total Security – Multi-Device nessun aspetto della tua sicurezza digitale è lasciato al caso. La nostra soluzione di sicurezza completa protegge la tua privacy, il tuo denaro, l'identità digitale, foto e file ma anche la navigazione online dei più piccoli dalle minacce provenienti da Internet. Con un unico prodotto e un'unica licenza protegge tutti i tuoi dispositivi digitali in qualsiasi combinazione: PC portatili e desktop, computer Mac o smartphone e tablet Android.
Protegge dalle odierne minacce di sicurezza su Internet
Kaspersky Total Security – Multi-Device è la nostra soluzione di sicurezza completa. Tutela la tua privacy, il tuo denaro, la tua identità, le tue foto, i tuoi file e la tua famiglia su più dispositivi. Garantendo una protezione pluripremiata anche dalle minacce Internet più recenti, dal cybercrimine, dal malware e da molto altro ancora, Kaspersky Total Security – Multi-Device protegge ogni singolo aspetto della tua vita digitale. Per questo parliamo di sicurezza totale.
Fornisce il massimo livello di protezione per PC, Mac e Android
Con un solo prodotto e una singola licenza, Kaspersky Total Security – Multi-Device offre i massimi livelli di sicurezza, che utilizzi un PC, un Mac o telefoni e tablet Android. A casa e in viaggio, qualunque dispositivo utilizzi, potrai usufruire di tutti i vantaggi del nostro prodotto di protezione completa più flessibile.
Home Page
:
www.kaspersky.it
If you like this program please support Developer / Publisher and BUY it.
How use .REV files CLICK HERE
Please DO NOT MIRROR
If you'll find that my links are dead please let me know through the Private Messages.
>>> Visit My Blog Here <<<
Subscribe to My Newsletter!