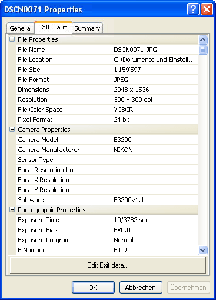 Exif Farm 1.60
- software for viewing, creating and editing EXIF information. Being
integrated in the system, the program gives an access to Exif information in most of applications.
EXIF Pilot 1.60
is software for the analysis of EXIF data (information
that indicates digital camera settings and picture taking
conditions). With EXIF Pilot, you can find the optimal parameters for
taking pictures, for example, the relationship between the depth of
field and the aperture of a particular lens.