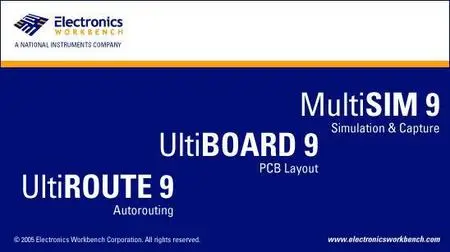 Electronics Workbench Design Suite V 9.0.155 | 330 MB
This Soft Package Includes Multisim v9 + Updates&Ultiboard v9 + Updates & ULTIROUTE v9
Download From Here : RS - 7 rar Parts : 6 x 50 MB + 1 x 30 MB
Password
:
www.AvaxHome.ru
Part I
Part II
Part III
Part IV
Part V
Part VI
Part VII
MULTISIM — SIMULATION & CAPTURE

Multisim is a powerful simulation tool that includes a complete, fully integrated version of Multicap for design entry leading to simulation.

Verify circuits and locate errors before they propagate further down the design flow and become costly mistakes. Investigate circuits using the industry's only virtual instruments and "change-on-the-fly" interactive simulation. Gain true understanding of your circuit's performance with a comprehensive suite of analyses. Multisim helps optimize designs and minimize time-to-market.


ULTIBOARD — PCB LAYOUT

Ultiboard combines power with ease of use to quickly get error-free boards to production.

Ultiboard's user interface is carefully designed so that the most critical repetitive tasks such as trace editing and component placement can be performed quickly, with minimum steps and fewer mouse clicks. In addition, Ultiboard boasts one of the industry's only real-time systems so that all DRC, ratsnest, polygon, and force vector information is updated in real-time as you work, for instant feedback and greater efficiency

ULTIROUTE — AUTOROUTING

Ultiroute is the only autorouting program to employ "Progressive Routing" — breakthrough technology that combines grid and gridless (shape-based)routing techniques into a single engine. Get better board layouts with higher completion, shorter trace lengths, and fewer vias through gridless routing, while most traces are still placed on the grid for easy editing.

For More Info ,, Pay A Visit To The Official
WebSite