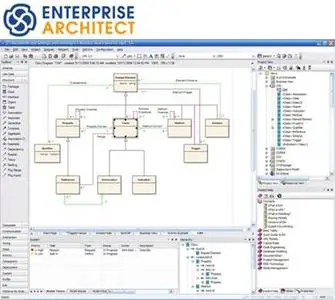 Enterprise Architect combines the power of the latest UML 2.0 specification with a high performance, intuitive interface, to bring advanced modeling to the desktop, and to the complete development and implementation team. With a great feature set and unsurpassed value for money, EA can outfit your whole team, including analysts, testers, project managers, quality control staff, deployment team and more.
Enterprise Architect is a comprehensive UML analysis and design tool, covering software development from requirements gathering, through to the analysis stages, design models, testing and maintenance. EA is a multi-user, Windows based, graphical tool designed to help you build robust and maintainable software. It features flexible and high quality documentation output.
Feature List:
Comprehensive support for UML 2.0 (Support for all 13 UML 2.0 diagrams)
Intuitive and great looking User Interface
MDA Transformation support
Comprehensive and flexible documentation
Forward and Reverse Code Engineering (Inbuilt support for C++, Java, C#, VB.Net, Visual Basic, Delphi, PHP, Python and ActionScript)
Support for "pluggable technologies" using MDG (Model Driven Generation) Technologies
Database modeling
Ability to Share models in different ways
Version Control Support
XML Schema Support
Compare (diff) Utility
Baseline support
Reverse Engineer binary files from Java and .NET
Requirements Management support
Import/Export of Models in XML format
User Security support
Support for Testing
Support for Maintenance
Support for Project Management
Support for System status information
Fully featured Automation interface for scripting EA and writing complex plug-ins
WSDL Engineering Support
Traceability reporting
Excellent search facilities
Flexible appearance, color and display options
Spell Checker
Many different image formats for saving diagrams
For more info go to:
http://www.sparxsystems.com/products/ea.html
Link:
http://rapidshare.de/files/24558841/SSEA-6.1.789.rar.html
Pass:
www.AvaxHome.ru
Enjoy!