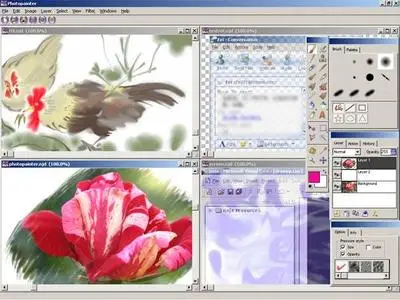 Eusoftware Photopainter 1.4.8 | Application | 2,6 Mb
Photopainter Can be used to create works of art, retouch photos or fine existing art pictures with its natural-media digital painting tools and techniques. Because of its good price, it is available for students and digital art amateur.
Features
Powerful layered image feature
Photopainter's layered image feature is a great ability. Since you can compose a picture with several independent layers, you'll just work as effectively as the professional.
Many unique natural painting tools
Photopainter comes with many painting tools, including pencil, Magic Wand, paint brush, Chinese brush, and many other tools.
Lots of filter built-in
You can retouch your painting or photo with a simple click.
Enhanced lasso selection feature
With its improved selection feature, you can make more complex processing to your pictures.
Powerful Undo/Redo Function
Photopainter give you the power to undo and redo, so do not be afraid of making mistakes.
Tutorial galleries
Photopainter contains a great number of tutorial record clips. You can easily learn how to draw pictures of different styles. If you are a teacher, you can make tutorial record clips conveniently.
Painting for newbie
Need help? Photopainter has very convenient context sensitive online help.
Works great with pressure-sensitive tablets
In addition to the mouse, Photopainter works great with images pressure-sensitive WINTAB compliant tablets. You will feel like using real tools, even more powerfully. Enjoy it. To get a WINTAB compliant hardware tablet, please contact the vendors such as WACOM.
Works great with digital cameras and scanners
In addition to the images you have stored on hard drive, floppy disk, CD-ROM, and other removable media, Photopainter works great with digital cameras, scanners, and all other TWAIN-compliant devices.