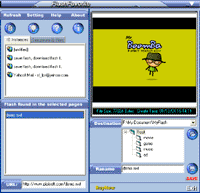 Flash Favorite v1.5.2 | Win32 |Size: 1.41 MB
Flash Favorite makes it easy todownload and save flash files (SWF, FLV) on the web pages. You canpreview the flash files and optionally rename it and save the file clipon your computer for future playback.
An easy way to save and download flash from web pages!
Flash is the most popular animation format on Internet now. When you were surfing on the Internet, have you experienced such things:
Playing Flash games,
Watching video online,
Watching comic Flash movies,
Reading Flash based charts ……..
Having problem downloading these flash files?
Make it easy on yourself with Flash Favorite. Flash Favorite is the right program that can save these flashes for you.
With this useful tool, you are able to download the Flash movies you like and save them to your hard drive for future playback.
Why Flash Favorite Is The Best Solution For You?
Save flash movies from any web pages:Whether the movie is located in a pop-up window or in a frame, Flash Favorite works well.
User defined category :You can quickly categorize your downloaded flash files. It makes the management of flash filess more efficient! Support listing Flash files in Windows Internet temporary folders:
Flash Favorite will list all the flash movies in your Internet temporary folders. With Flash Favorite you won't miss any wonderful flash movies you saw online.


Dwonload Here:



Rapidshare


Or

Depositfile



No Password
Best regards,
WebGurru