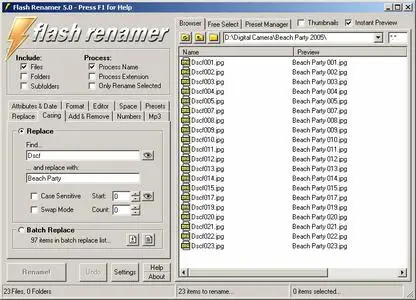 Features:
• Fast as lightning! Renames thousands of files in a matter of seconds.
• Set casing to UPPER CASE, lower case or First Letter Case.
• Rename Mp3s using their tags and properties.
• Read data from jpeg Exif tags. Excellent for digital camera users.
• Search and replace strings within filenames.
• Set or clear file attributes, such as 'read only' and 'hidden'.
• Set date & time using various sources, such as image Exif date.
• Add or Remove strings from specified positions.
• Add counters to files that are related, such as photo sessions.
• Extract meta-data from media, such as width/height and duration.
• Realtime preview shows the new filenames before you rename.
• Works on files, folder and sub-folders.
• Easily manage your photo collection by using the thumbnail mode.
• Add zeros to numbers to make files sort correctly in every situation.
• Re-order parts within filenames the way you want it.
• Context menus allows you to quickly launch FR when you need it.
Free of password.
http://rapidshare.de/files/23028265/flashrenamer502.rar