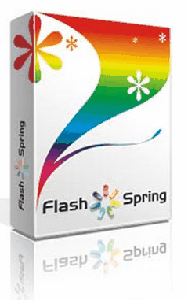 Flash Spring Pro ver. 1.5 | 5,0 MB
FlashSpring Pro makes you able to produce high quality Flash content fantastically easy in PowerPoint environment
Using FlashSpring functions embedded into MS PowerPoint toolbar you get fast conversion of your presentations to Macromedia Flash format.
FlashSpring Pro keeps interactivity and animation effects of your original presentations. The ability of adding flash clips and videos, background music and narrations provides you with extra means to enhance your presentations' impression.
FlashSpring Pro gives you a choice of several ways of your Flash presentation composition. You can either generate your presentation as a solid Flash clip with all slides included or publish each slide in a separate clip. You can also have your Flash presentations wrapped in an attractive player.
Portable Flash clips generated with FlashSpring can be distributed easily on the web or delivered by e-mail. FlashSpring Pro reduces the size of your presentation dramatically.
Macromedia Flash format makes your presentations available for millions of Internet users working on different computer platforms and web browsers. With FlashSpring you have a total control of size, frame rate and scale of your Flash presentations.