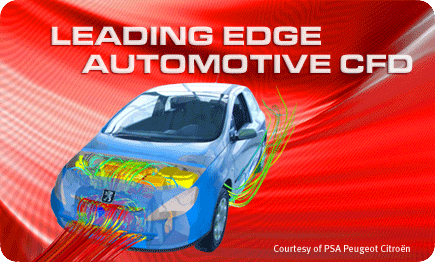 ENGINEERING SOFTWARE COLLECTION VOLUME 6 FLUENT FOR THE AUTOMOTIVES
FLUENT V 6.2 Flow Modeling Solutions for the Automotive Industry | LATEST RELEASE
WINDOWS OS | ENGLISH |SIZE 600 MB APP | SOFT + DOC FULL| CAE SOFTWARE
Flow Modeling Solutions for the Automotive Industry
Fluent's CFD software products enable you to create virtual flow models within your computer quickly and effectively to quantify, visualize and optimize automotive designs early in the design process. The insight and efficiency that you will gain from using FLUENT will result in better designs in shorter cycles. FLUENT meets all of your automotive CFD needs, from component-level to full vehicle analyses. The unprecedented array of robust and accurate models permits for the simulation of the widest possible range of automotive CFD applications in the industry, including aerodynamics and thermal management, climate control, engine modeling, exhaust aftertreatment, acoustics, multiphase and multiphysics applications.
Our software couples to industry-leading PLM, CAD and CAE software to ensure integration into your design process to provide the best simulation solutions quickly. We offer a full range of products and services including highly automated flow modeling tools that allow design and process engineers to perform flow and heat transfer calculations. We continually help automotive companies realize the benefits of CFD, aiding in both its initial deployment as well as the continued application to the overall design process.
Let us show you how FLUENT can reduce your product development and manufacturing costs and enhance your return on investment.