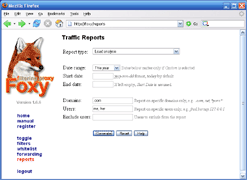 Foxy 1.7.1 | Win32 | Size: 1,54 Mb
Foxy is a filtering web proxy. It acts as a middleman between the users' browsers and the Internet. All through traffic is inspected, categorized, counted, and may be modified, redirected, or blocked, if neccessary.
Features:
* Proxies HTTP, FTP, and SSL protocols. Only HTTP traffic is filtered, FTP and SSL connections are tunneled without filtering (you don't want your secure data or FTP file downloads to be altered in any way). All traffic is recorded and reflected in traffic reports.
* May run on the same machine as your browser or as a server serving multiple clients.
* Features browser-based user interface; works with any browser running on any platform.
* Supports both HTTP/1.0 and HTTP/1.1 (including persistent connection and chunked transfer).
* User authentication and IP address allow/deny lists for users and administrators.
* Can be used as a lightweigth HTTP server.
* Plus much more!