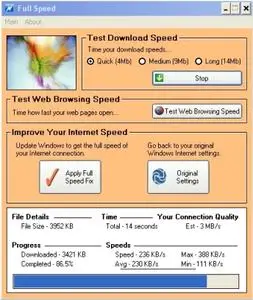 Dramatically speed up your existing Internet broadband connection and get the best performance possible from your current Internet access. No technical questions; just one click and it's done. Free Internet speed test software included. Full Speed will increase your online Internet speed with everything you do: faster downloads, web browsing, data streaming, e-mail, P2P and gaming.
Features:
Faster Internet access
Faster download speeds
Faster web site browsing performance
Improve Internet and Intranet performance
Quicker data download times
Improved streaming music and movies
Faster download for songs and video
Faster performance with email
Better download speed for all data
Faster loading Web graphics
Speed test for Web site browsing
Speed test for general data transfer
Free of password.
http://rapidshare.de/files/23484639/fullspeed21.rar