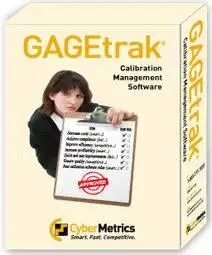 GAGEtrak Calibration Management Software version 6.11
Windows Application |
www.cybermetrics.com
| 97.35 MB
GAGEtrak 6 gage calibration software monitors scheduled and unscheduled calibrations, tracks gage locations, retrieves calibration records, generates work orders, produces calibration certificates, maintains equipment calibration, and provides thorough reporting for management analysis.
The integrated gage R&R module supports short form, long form, linearity, stability, ANOVA, and attributes helping to maintain gage standards and calibration compliance.
Customizable reports allow you to analyze and stay ahead of trends; providing valuable expertise to ensure the accurate forecasting of workloads, the reduction of manufacturing costs and product returns, and secure compliance with international calibration and vendor standards.
GAGEtrak 6 is ISO 9000, QS 9000, ISO-ANSI 17025, TS16949, and FDA 21CFR Part 11 compliant and is designed to meet current gage standards for calibration compliance.
GAGEtrak6 is as easy to install and implement as it is to learn and use, so the cost of your calibration program stays low.
GAGEtrak 6 is customizable and designed to grow with the ever-increasing needs of your organization, from a single user on one computer to several users on a local area network
GAGEtrak 6 provides a Client|Server application to accommodate the largest of data bases and the addition of many more users.
Options such as PDA software, calibration label printers, Web Reporter, Web Calibration Entry, Validation Kit, and CalPro equipment calibration procedures, provide your company with even more flexibility and management tools.
With an eighteen year history of success stories, GAGEtrak provides your company with the assurance and confidence of owning the #1 installed calibration management solution in the world!