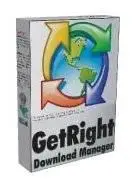 GetRight Professional v6.1 (PC) | 4.1 Mb. | Ftp2Share.
(RS.com & DepositFiles Mirrors)
GetRight Pro is the even more feature-filled version of the award winning GetRight Download Manager and Download Accelerator software for Windows. GetRight Pro simply improves, optimizes and increases the speed of your downloads and uploads.
Infos:
http://pro.getright.com/
Features in GetRight Pro for Professional and Power Users.
Upload Files - GetRight Pro can easily upload files. You can set it so with just a few clicks, it can upload all the changed files for your website.
Advanced Scripting - you can program GetRight Pro to automate all of its features in just the way you need.
Web Access - you can control GetRight Pro running on your computer from anywhere in the world.
Features Found in all GetRight Software.
Faster download speeds - download a file from several servers at once.
Manage downloads better - no more lost files, easily see what is in progress and find your finished downloads.
Recover downloads that are interrupted for any reason - lost connections, crashes, etc.
Reliable - GetRight has been used by millions of people all over the world to download Billions of files.