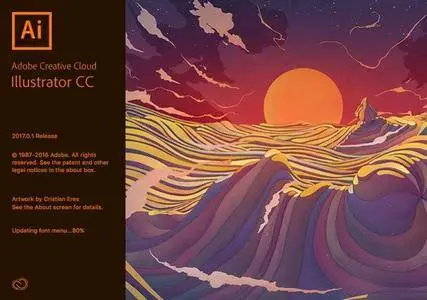 Adobe Illustrator CC 2017 v21.1.0.326 MacOSX | 2.13 GB
Create beautiful vector art. The industry-standard vector graphics app lets you create logos, icons, sketches, typography, and complex illustrations for print, web, interactive, video, and mobile.
It's Illustrator like you've never seen it.
See how the latest release helps you create with pixel-perfect accuracy, work more seamlessly with fonts and glyphs, and jumpstart your designs with templates.
- Create pixel-perfect artwork for screen designs by drawing paths and shapes that seamlessly align to the pixel grid.
- Select an entire artboard or choose individual assets from one or more artboards, and export them to multiple sizes, resolutions, and formats in a single click.
- Easily access Adobe Stock assets — including new design templates, images, graphics, and our new Premium collection — right from the Illustrator search field.
- Design faster with presets and templates for brochures, business cards, and more that you access from the file menu.
Go from blank page to brilliant.
Illustrator is part of Creative Cloud, which means you can access all your assets — including Adobe Stock — right inside the app and quickly turn a blank page into a beautiful work of art. And with Adobe CreativeSync, everything is connected across your desktop and mobile apps.
All your assets. Always at your fingertips.
Creative Cloud Libraries store all your brushes, shapes, colors, character styles, Adobe Typekit fonts, and other creative assets, so they're instantly available across your desktop and mobile devices.
Adobe Stock built right in.
Spend less time searching and more time designing with more than 60 million high-quality images, graphics, videos, 3D objects and our Premium collection inside your apps. With built-in templates for web, print, mobile and more, you can dive right into your designs.
Make something now.
Get the most out of Illustrator and Creative Cloud with our latest tutorials for graphic design, mobile and web design, and more.
What's New in Illustrator CC (2017):
Create pixel-perfect artwork
Draw paths and shapes that seamlessly align to the pixel grid. Align existing artwork with a single click or by using simple transformations. Preserve Live Shapes and rounded corners, maintain alignment when scaling and rotating objects, and manually nudge segments and end points into perfect alignment.
Find fonts faster
Mark individual fonts as favorites to quickly find the one you need. Filter your list to see fonts you've recently used, find other fonts that are similar to one you like, or find fonts based on classifications like serif or handwritten.
Work easier with glyphs
Use alternate glyphs for any character by simply selecting the character and choosing from an in-context menu. View and insert your most recently used glyphs, and sort glyphs for faster browsing.
Get started faster
Jumpstart design projects with easy access to presets as well as free Adobe Stock templates that you can access right from File > New.
Stock templates and search
Adobe Stock marketplace includes new design templates and now you can drag and drop Stock search results from your Library panel right into your canvas and start using them right away. Plus, you can right-click on a stock image to do a visual search for similar images.
New Creative Cloud Libraries capabilities
Libraries in Illustrator now support Adobe Stock templates. Plus, Send Link has been updated so you can now share read-only access to a public library. When you follow a library, it appears in your Library panel and updates automatically.
Creative Cloud Assets improvements
Archive and restore all your assets stored in Creative Cloud, including the ones in your Creative Cloud Libraries, assets created with CC desktop products, and mobile projects.
Introducing Typekit Marketplace
Now you can buy fonts from some of the industry's biggest names and use them in your Illustrator projects. Typekit uses its font sync and web technologies to deliver your Marketplace fonts anywhere you need them.
Font and text enhancements
See a live preview by hovering over the font list with selected text, place loaded text inside a container, or fill a container with placeholder text to better visualize your designs. Easily work with type objects that have a common font family but different styles, and vice-versa.
Zoom to selection
View and edit faster now that you can zoom into anything you've selected — an active point, a segment, a path, or an object.
Modern user experience
A flat UI and new icons for tools and panels offer a cleaner look and help you focus on your artwork.
And so much more
Also included: Ability to archive, restore, and see version history for all your assets stored in your Creative Cloud Libraries, assets created with CC desktop products, and mobile projects.
What's New in Illustrator CC (2017.1):
Crop images more easily
Crop bitmap images directly within Illustrator to discard excess parts, reduce file size, and improve performance. That means no need to use clipping masks or edit the image in Photoshop.
Create new documents faster
To improve speed and performance, the start screen for creating new documents now loads even faster than before.
Redesigned Color Theme panel
Create, explore, save, and retrieve color themes across applications with the new Color Theme panel. Now you can explore popular themes and get help perfecting color choices.
Stability enhancements
You asked, we listened. We've fixed top Illustrator issues and improved stability.
System Requirements:
- Multicore Intel processor with 64-bit support
- macOS version 10.12 (Sierra), Mac OS X version 10.11 (El Capitan), or Mac OS X version 10.10 (Yosemite)
- 2 GB of RAM (8 GB recommended)
- 2 GB of available hard-disk space for installation; additional free space required during installation (cannot install on a volume that uses a case-sensitive file system or on removable flash storage devices)
- 1024 x 768 display (1280 x 800 recommended)
- Optional: To use GPU Performance: Your Mac should have a minimum of 1 GB of VRAM (2 GB recommended), and your computer must support OpenGL version 4.0 or greater.
Homepage
-
https://www.adobe.com