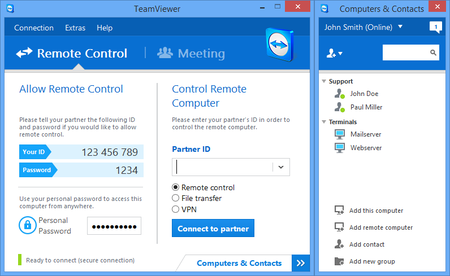 TeamViewer Premium / Enterprise / Corporate 12.0.75813 Multilingual + Portable | 48 MB
TeamViewer 12 - More than 200,000,000 Users spread over more than 200 countries already use TeamViewer - when will you start? TeamViewer is ready to use, right after downloading! Download, execute, and get started! - Your first session will start in less than a minute.
New in TeamViewer 12:
Improved performance – up to 15x faster
TeamViewer has been optimized to use less bandwidth and provide more efficient image rendering, so expect improved image quality at a given bandwidth. Other benefits include file transfers up to 15x faster, and up to 30% lower data usage rates.
Overhauled toolbar
Not only is TeamViewer faster, now you're faster too. The remote control session interface has been redesigned based on user feedback and the latest research in user-interface design. Find what you want, where you expect it, when you need it.
Unattended access for Android devices
TeamViewer is the solution that supports remote control of more Android systems than anyone else. Now, it's even possible to remotely control unattended Android devices from anywhere, at any time. Android doesn't just mean smartphones and tablets either. Today, many devices such as point of sales (POS), ATMs, public displays, and even vending machines rely on Android.
Give your customers an SOS button
Make it extremely easy for your customers to get support. Create a custom TeamViewer QuickSupport module that puts an icon with your company's name, or a simple call to action, right on your customer's desktop. With just one click, customers can request help from you through your custom QuickSupport module that automatically updates to reflect your latest customizations.
Gather customer feedback
Improve your service quality by gathering customer feedback via an automatic satisfaction survey at the end of a support session. Your customers can provide ratings and comments to help improve your support services.
Linux with no GUI is no problem
Directly connect to the Linux text console, even if there is no graphical user interface (GUI). Easily manage headless Linux servers without concerns about setting up port forwarding, configuring SSH, or having to attach a monitor. With TeamViewer, it just works.
Install TeamViewer Host remotely
Easily turn a first-time customer into repeat business. From a spontaneous support session, you can make unattended access possible from that point forward by installing the TeamViewer Host module remotely. You can even install your own custom Host module with your branding.
Total control of your channels
Maintain a clear overview of how your channels are being used and have channels available when and where they are needed the most. By creating separate channel groups within your license and assigning users to them, you ensure that specific teams always have access to the channels they need.
Powerful and flexible group sharing
Enjoy total control of all the groups in your Computers & Contacts list. If you have been granted "full access", you can share groups that have been shared with you and change permissions. Move shared contacts into your own contacts, and quickly see who the owner of a shared group is as well. Managing contacts and devices has never been easier.
Save time with multi-selection
Work more efficiently by selecting multiple contacts or devices at once from within your Computers & Contacts list. For example, assign multiple devices to a group all at once, or bring additional participants into a video call by selecting them all and inviting them together.
Run TeamViewer in your browser
Use TeamViewer from within your web browser to provide remote support or for remote access. This is a convenient alternative if you lack administrative rights to install TeamViewer but still need to connect to a remote device to provide support or work collaboratively on a project.
TeamViewer chat in your web environment
Add full-featured, browser-based chat capabilities to internal web tools such as CRM or helpdesk solutions by means of a TeamViewer chat widget. This embedded chat solution provides even more flexibility and convenience by putting TeamViewer's chat functionality directly into your working environment.
Chat from anywhere
Never miss an important conversation. Log in to your TeamViewer account from anywhere via a web browser to use it as a web-based chat platform. You can even chat on the go from your mobile device. Also, show people how you really feel with emojis :-). Of course, no matter how or from where you chat, your conversations remain end-to-end encrypted with TeamViewer.
Chrome OS support
TeamViewer continues to be the shining example for supporting multiple platforms by adding yet another operating system to the list: Chrome OS from Google. Now you can access your office or home computer using your Chromebook or use it to provide remote support.
Made for Windows 10
TeamViewer 11 is a perfect match for Windows 10, and it does more than just look good. With TeamViewer 11, you can take advantage of powerful Windows features such as improved touch gestures on the trackpad for both local and remote input.
Client enhancements
The hallmark of a premier solution is attention to detail. In the TeamViewer 11 client interface, such details are revealed through an incredibly clean design with numerous usability enhancements focused on providing a state-of-the-art user experience.
Home Page
https://www.teamviewer.com/