Надоели стандартные графические эффекты Windows?
Добавьте новых, не увеличивая нагрузку на систему!
Add new animation in your windows!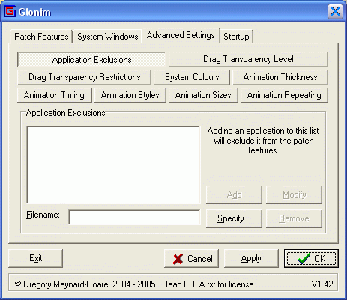 Little Glonim will do it for you!
Маленькая утилитка
Glonim
позволяет изменить поведение окошек при их появлении, сворачивании, закрытии - и не только:
Glonim is a realtime patch for Windows that adds many 'cool' features to the operating system, some probably never seen before. It can:

- Add animations in many styles to when most windows open and close.
- Tile your own bitmap images on the back of windows and application backgrounds.
- Make windows transparent whilst they are being dragged.
- Change the window styles to put shadows behind windows.
- Make the Taskbar partly transparent, adjust its transparency in realtime, and put a bitmap on it on pre-XP machines.
- Put free memory, the day of the week, or your own custom (short) caption in the Start button.
- Remove the shading behind desktop icon text on pre-XP systems.
- Exclude applications if you want it to.
…and it's fast, easy to use, requires only a small amount of memory, it is compatible with practically any application, does not require any installation, and it works on almost all 32-bit Windows PCs.
- Добавляет анимацию окнам, как я уже сказал (более интересную, чем виндовая)
- Подкладывает ваши растровые изображения фоном для папок и приложений (отдельно для тех и этих)
- Делает окно прозрачным при перетаскивании
- Позволяет окнам отбрасывать тень
- Делает Панель задач частично прозрачной, позволяя менять уровень насыщенности в реальном времени
- Отображает на кнопке Пуск количество свободной памяти, день недели или то, что Вы сами назначите
- Убирает тени под иконками десктопа на системах до-ХР
- Позволяет задать исключения для приложений, в которых Вы не хотите, чтобы работали добавленные эффекты.
Glonim
- быстрая, легкая в использовании, не требующая инсталляции прогграмма, совместимая практически со всеми приложениями и работающая на всех 32-битных windows-системах.
Единственный недостаток
:
Glonim должен быть запущен, но -
а) он тихонечко сидит в трее,
б)
кушает очень мало памяти!
(у меня - менее 4 метров)
Маленькая прикольная утилитка! Поиграться - самое то. Глядишь и понравится :)
Download:
Glonim142.zip
(256 Kb)