Description:
Measuring your glucose level can help you and your doctor control diabetes and its many complications. We suggest that persons with diabetes begin keeping a daily log of their glucose readings. It's a good idea to take readings at different times of day: the ideal glucose levels are: 70 to 130 mg/dL (4 to 7 mmol/L) before meals, and less than 180 mg/dL (10 mmol/L) 1 to 2 hours after a meal.
The Glucose Tracker simplifies glucose data logging. The software automatically saves glucose level, relationship to the meal, and time of measurement. In addition to being a convenient data logger the software is also a voluble tool for glucose level longitudinal trends analysis. This longitudinal analysis may help you and your doctor decide on the best medicine and help adjust daily drug dosage.
Features:
The intuitive interface for data logging.
Oversized numbers for easy data entry.
Monitor the changes of glucose over time on the longitudinal graphs.
Trending over any time interval (currently not available on Palm and Smartphone).
The Calendar view shows the maximum and minimum glucose levels day by day. The calendar automatically identifies and marks days with Good, Borderline, and Abnormal glucose levels.
The History display allows one to view all historic data.
Comments such as sickness or stress stress can be easily entered from a drop-down box (currently not available on Palm and Smartphone).
Text Comments can also be typed in (currently not available on Palm and Smartphone). You can use this feature to record the meal information that caused a higher than normal reading.
You can save all data into a text file for copying to PC or sharing with your physician.
You save all data into a CSV file (comma delimited text file) for backup, archival, and editing.
You can edit the CSV file on the desktop PC with Excel, Notepad, or any other text editing software.
You can load data from the CSV file into the Tracker software.
The tracker allows switching between mg/dL (milligrams/deciliter used primarily in the USA) and mmol/L (millimol/liter used outside the USA) at any time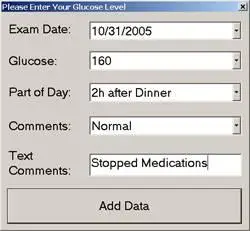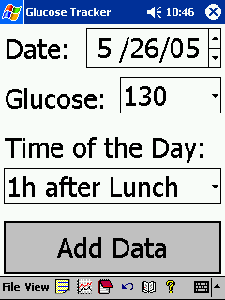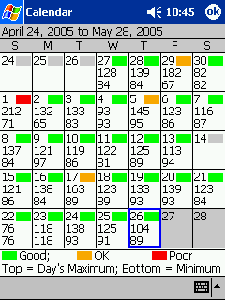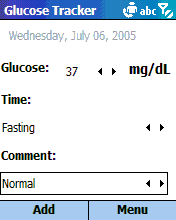 Compatibility:
Pocket PC Glucose Tracker 3.8 or later is compatible with Desktop PC Glucose Tracker all versions.
To transfer data from your mobile device to Desktop PC: 1. Save data into CSV file on mobile device. 2. Transfer the CSV file to Desktop PC. 3. Open the CSV file with the Glucose Tracker software on Desktop PC.
Smartphone Glucose Tracker currently is NOT compatible with Desktop PC Glucose Tracker.
Download Here
Password:
spiderman