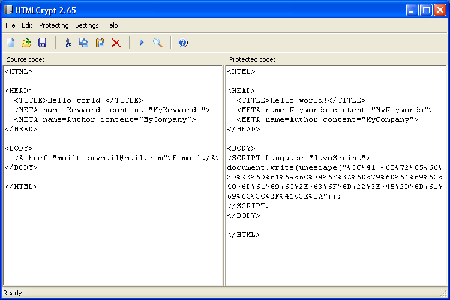 Description
HTMLCrypt is a software to protect your web pages and prevent others from viewing and reusing your web page source code, including HTML source code, JavaScript, VBScript, text, links and graphics, thus protect your hard work and unique design on the web. In addition to encrypt the source code and make it impossible for people to read, HTMLCrypt also takes some additional measures to further protect your web page, such as disable right mouse click, disable link display in status bar, disable text selection, disable off-line use, disable page printing, etc. The protected page by HTMLCrypt will have the same appearance as the original one.
Considering HTMLCrypt?
You should know then your site is under attack when:
- You registered less leads / revenue / sales from your website.
- Your users use ad-blocking / ad-killer software to block banners.
- You find the clones of your website.
- You see copyrighted images from your website on other sites.
How can HTMLCrypt help you?
- It stops Ad-busters, Ad-Killers and Proxomitron.
- It fully disables any website leaching.
- It disables website grabbers and website downloaders.
- It can encrypt entire website or single HTML file.
- It works on client-side and does not require any additional server software or any software on your web site visitors' machines.
Download:
http://rapidshare.de/files/36179005/HTMLCrypt.v2.65.rar.html
(0.68 Mb)