HummingBird NFS Maestro ALL 2007 v12.0 Multilingual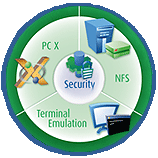 HummingBird NFS Maestro ALL 2007 v12.0 Multilingual | Win32 |Size: 155 MB
NFS Maestro family provides the largest suite of tools which enables users from Windows and UNIX universes to efficiently exchange business critical information.
Its unmatched performance-enhanced architecture offers the latest technologies available in the NFS world. With a full range of NFS solutions including client, server and gateway, NFS Maestro is the fastest and richest NFS implementation that solves the Windows to UNIX communications dilemma. Desktop users on a network can access remote data from many different types of computing environments - including UNIX, VMS, Macintosh computers, IBM mainframes, and the Internet - in a familiar graphical Windows environment, without having to understand UNIX, NFS commands, or underlying network complexities.
NFS Maestro Client™ 2007 - enables PC desktops to access local and remote NFS file systems and printers, and includes a complete suite of PC-to-enterprise TCP/IP applications, Inet Daemon Suite (InetD™), Hummingbird Basic™ scripting, FTP for Windows Explorer and integrated terminal emulation with Hummingbird HostExplorer™.
NFS Maestro Solo™ 2007 - provides the core NFS functionality of NFS Maestro Client to users who require NFS client connectivity without an extended suite of PC-to-enterprise TCP/IP applications.
NFS Maestro Server™ 2007 - enables UNIX workstations and network-attached NFS computers to access Windows-based resources such as Windows NT file systems, directories, printers, and CD-ROMs, across a network.
NFS Maestro Server™ 2007 Enterprise Edition - the top of the line NFS server solution that can satisfy the most stringent demands from Storage professionals. Armed with the designation of Certified for Microsoft Windows Server 2003, NFS Maestro Server Enterprise Edition is a powerful and cost effective component that fits superbly in the enterprise storage strategy.
NFS Maestro Gateway™ 2007 - provides controlled access for occasional NFS access to UNIX file systems while offering centralized management for network administrators. NFS Maestro Gateway acts as a proxy between UNIX/NFS and SMB networks and eliminates the need to install NFS client software on individual PCs. Users can seamlessly access printers and applications residing on a UNIX host from a familiar graphical Windows environment.
Rapidshare
NFS Maestro Client™ 2007
http://rapidshare.de/files/35196588/HBNFSMstClnt2007v12.rar.html
NFS Maestro Solo™ 2007
http://rapidshare.de/files/35194600/HBNFSMstSlo2007v12.rar.html
NFS Maestro Server™ 2007
http://rapidshare.de/files/35193006/HBNFSMstSvr2007v12.rar.html
NFS Maestro Server™ 2007 Enterprise Edition
http://rapidshare.de/files/35199584/HBNFSMstSvr2007Entv12.rar.html
NFS Maestro Gateway™ 2007
http://rapidshare.de/files/35197216/HBNFSMstGtwy2007v12.rar.html
No Password
Best regards,
WebGurru