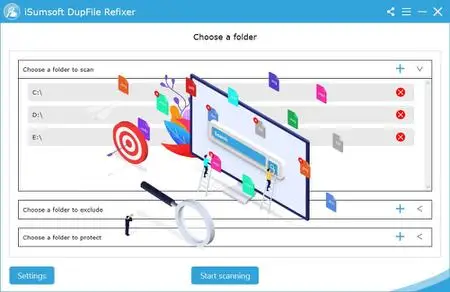 iSumsoft DupFile Refixer 3.1.1.1 | 8.9 Mb
iSumsoft DupFile Refixer is a secure and efficient tool that can help you easily locate and delete identical/similar files on Computer, so as to save disk space.
- Accurately scan, classify and delete all tpyes of duplicate files.
- Selectively search for duplicate files on Windows/external drive/USB.
- Clearly show you the detected duplicate files by detail report.
- Safely enable a delete confirmation to prevent from mistaken cleanup.
- Easily optimize disk space and increase your Computer performance.
Identify Duplicates with 100% Accuracy
With smart MD5 Message-Digest Algorithm, iSumsoft DupFile Refixer can help you precisely catch and erase all types of duplicate files on your Computer with one click, including photos, videos, documents, music, archive, etc. Moreover, it also allows you to make a specific scan with customized settings, choosing scan file type and skipping hidden files, system files, program files or recycle bin files.
Delete Duplicates with 100% Safety
iSumsoft DupFile Refixer can identify any identical or similar file in Windows local & external hard drive/USB drive and generate a detail report of the duplicates containing file name, file path, file type, file size and so on. In this way, you are able to review the duplicates and decide if you want to remove them. For safer deletion, it will ask for your confirmation to avoid removing your wanted files accidently.
How It Works
Step 1: Click on Start scanning to find out duplicate files on your Computer.
Step 2: Click on Delete to easily remove the duplicate files on Computer.
Home Page
-
https://www.isumsoft.com/